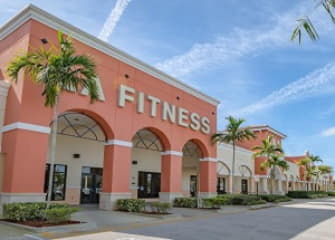 Continental Realty Fund, V continues to seek retail property acquisition opportunities following 7th retail purchase in this $210.8M private equity Fund
Continental Realty Corporation (CRC), a Baltimore-based real estate investment and management company, has announced the acquisition of The Shoppes at Sherbrooke, a 57,901 square foot neighborhood shopping center anchored by LA Fitness. The asset is located in the Lake Worth section of Palm Beach County, Florida, less than 15 miles from downtown West Palm Beach and was purchased for $11.3 million. The shopping center is the 17th asset owned and managed by CRC in Florida. The seller was represented by Kirk Olson and Drew Kristol of Marcus & Millichap in Miami, Florida.
The asset was purchased on behalf of Continental Realty Fund V, L.P., a $210.8 million private equity fund focused on acquiring value-add retail and multifamily properties in the Mid-Atlantic and Southeast regions. This represents the seventh retail property and ninth asset acquired by the fund, following last year's acquisition of Mount Pleasant Towne Centre, a 510,000 square foot open-air regional shopping venue situated in South Carolina.
Constructed in 2004and positioned at 8954 Lantana Road at the signalized intersection of Lantana Road and Lyons Road, The Shoppes at Sherbrooke has a tenant mix comprised of six national and local retailers offering fitness; medical, consumer and veterinary services; in addition to a fast-casual dining option for the local community. The approximate eight-acre site includes a nearly one-acre undeveloped land parcel that represents an opportunity to create additional GLA.
More than 66,000 consumers reside within a three-mile radius of The Shoppes at Sherbrooke, including approximately 15,000 households with an average household income exceeding $107,000. The local population has expanded by more than 10% since 2010 and household incomes are projected to grow by nearly 12% over the next five years. Additionally, the asset is surrounded by high-end residential golf communities and more than 1,000 homes are in the development pipeline in the immediate service area, including Gulfstream Gardens.
The Shoppes at Sherbrooke value proposition
"Due to our familiarity with the Palm Beach County market, we recognized an opportunity to deliver a solid risk-adjusted yield to our investors at The Shoppes at Sherbrooke. This opportunity coupled with the long-term commitment of LA Fitness and the existence of several high-performing complementary internet resistant retail tenants made this an ideal investment for Continental Realty Fund V," stated Josh Dinstein, Senior Vice President, Acquisitions for Continental Realty Corporation. "In LA Fitness, The Shoppes at Sherbrooke has a dominant anchor tenant which consistently ranks in the top 10% annually among the chain for foot traffic."
CRC intends to complete a number of exterior upgrades and enhancements to The Shoppes at Sherbrooke in the near future, and plans to evaluate options for the development and leasing of the outparcel.
"Each retailer at The Shoppes at Sherbrooke remained operational during the COVID-19 shutdown, which speaks to the tenancy's resiliency and ability to adapt," added Dinstein. "We believe people will continue to want to visit fitness centers as part of their workout plans. In fact, with more than 200,000 consumer visits in the past six months, this is the busiest location among the LA Fitness sites within a 20-mile radius."
Continued growth of Lake Worth and Palm Beach County
According to the Business Development Board of Palm Beach County, more than 700,000 people work in the Palm Beach County area, with major employers including Florida Crystal Corporation (2,000 employees), Pratt & Whitney (1,400) and U.S. Sugar (1,250). More than 1.5 million people live in the county and the Florida Department of Economic Opportunity reported a 5.5 percent unemployment rate at the end of last year.
Over the past five years, Palm Beach County has doubled the national average of new jobs generated, with Lake Worth recognized as the residential area of choice for employees commuting to West Palm Beach and Boca Raton. More than 7.3 million people visit Palm Beach County on an annual basis and it ranks first in the State of Florida in total agricultural sales and is among the top ten nationally.
Palm Beach County's largest job sector is health care and social assistance, with more than 90,000 jobs. Palm Beach State College, with more than 49,000 students, has its main campus in Lake Worth.
The Shoppes at Sherbrooke features nearly 300 feet of roadside frontage along Lantana Road, a large pylon sign for existing retailers and ingress and egress points on both Lantana Road and Lyons Road. More than 37,000 vehicles pass the center on a daily basis and the site is approximately 15 miles from Palm Beach International Airport.
CRC remains extremely bullish on Florida, based on its attractive climate, the continued population migration to the state and a favorable tax structure which helps stimulate business growth and relocations," stated JM Schapiro, CEO of Continental Realty Corporation. "We saw The Shoppes at Sherbrooke as the perfect asset for investment. We plan to continue our search for new opportunities throughout the region by leveraging our strong relationships in the brokerage community and retail sector. The demonstrated vibrancy of this section of Florida, spurred by the steady increase of jobs and sustained residential growth, provides the ideal fundamentals to support best-in-class retail centers such as The Shoppes at Sherbrooke. Our goal is to continue to uncover new opportunities to the benefit of Continental Realty Fund V."
Continental Realty Corporation (CRC) is focused on acquiring value-add retail and multifamily properties located throughout the Mid-Atlantic and Southeast regions of the United States. Headquartered in Baltimore and founded in 1960, CRC is a full-service commercial real estate and investment company. The privately-owned firm owns and manages a diversified portfolio of retail centers consisting of more than five million square feet of commercial space, as well as nearly 10,000 apartment homes. Positioned throughout the Mid-Atlantic and Southeast regions, the portfolio's value exceeds $2 billion. For additional information, visit www.crcrealty.com.