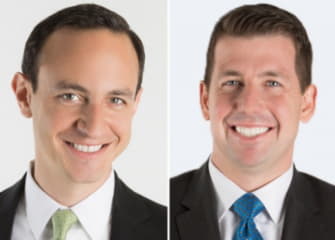 Jason A. Coe and Christopher K. Smith
Lash & Goldberg is pleased to announce that attorneys Jason A. Coe and Christopher K. Smith have been named partners of the firm. Mr. Coe's practice focuses on complex commercial litigation, health care litigation, appellate litigation, government enforcement, and white collar criminal defense. Mr. Smith's practice focuses on complex litigation, health care litigation and employment litigation matters.
"Lash & Goldberg continues its commitment to fostering growth within the firm and encouraging our attorneys to grow professionally," said co-founding partner Alan Lash. "Jason and Chris have demonstrated their dedication to providing the highest level of service to our clients and proven themselves to be exceptional litigators."
Mr. Coe's practice includes representation of companies and individuals in a diverse array of matters, ranging from defense of False Claims Act allegations and consumer protection claims to litigation of contract disputes, unfair competition, managed care, and land use matters. He has also been called upon by companies and organizations to advocate as amicus curiae on issues of broad importance to industry stakeholders. He regularly appears before federal and state trial and appellate courts, as well as arbitral forums, in Florida and elsewhere.
His most recent experience includes the successful resolution of several multi-million dollar reimbursement disputes for national healthcare systems, including a final arbitration award in favor of the firm's client after a two-week final hearing. Mr. Coe is also active in the firm's internal investigations practice. He has been a part of numerous sensitive internal investigations concerning reporting and compliance matters, and has participated in preparing presentations to the Department of Justice that have resulted in favorable outcomes.
Mr. Smith's practice includes representing numerous Fortune 100 and 500 companies in complex arbitration and litigation matters, and investigations throughout Florida and the United States, including Alabama, Georgia, New York, North Carolina, Michigan, Tennessee and Texas.
His most recent experience includes successfully litigating dozens of multi-million dollar disputes for hospital corporations, and successfully challenging a public hospital district's improper use of taxpayer funds.
Mr. Coe graduated from Tulane Law School in New Orleans and Rollins College in Winter Park, Florida with a B.A. in international affairs.
Mr. Smith received a joint law degree and M.B.A. with a concentration in finance from Emory University. He attended Duke University receiving an undergraduate degree in philosophy and psychology.
About Lash & Goldberg LLP
With offices in Miami, Ft. Lauderdale and Tampa, Lash & Goldberg LLP is an experienced litigation boutique litigation law firm representing corporate clients business interests in litigation matters in Florida and throughout the United States. The firm, founded in 1996, handles a broad range of litigation matters, from complex commercial disputes to class actions and qui tam and white collar criminal defense. Lash & Goldberg also counsels companies on administrative and regulatory matters and conducts corporate compliance reviews and investigations. Some of the firm's practice areas include alternative dispute resolution, complex business litigation, class action litigation, corporate, partnership & shareholder disputes, and health care operations & litigation.
Lash & Goldberg has received a Chambers ranking for Health Care litigation and named one of the country's Best Law Firms, as reported in U.S. News & World Report, as well as a Law360 2018 Health Care Practice Group of the Year. Lash & Goldberg attorneys have been recognized as "Lawyer of the Year" from Best Lawyers®, by The Best Lawyers in America®, Most Effective Lawyers by ALM's Daily Business Review, and "Top Lawyers in South Florida" by the South Florida Legal Guide among others. The firm's lawyers include former judicial law clerks and prosecutors, many of whom and have gained prior experience working at global law firms. The firm and some of its attorneys have also been listed in Martindale-Hubbell Law Directory's Bar Register of Preeminent Lawyers.