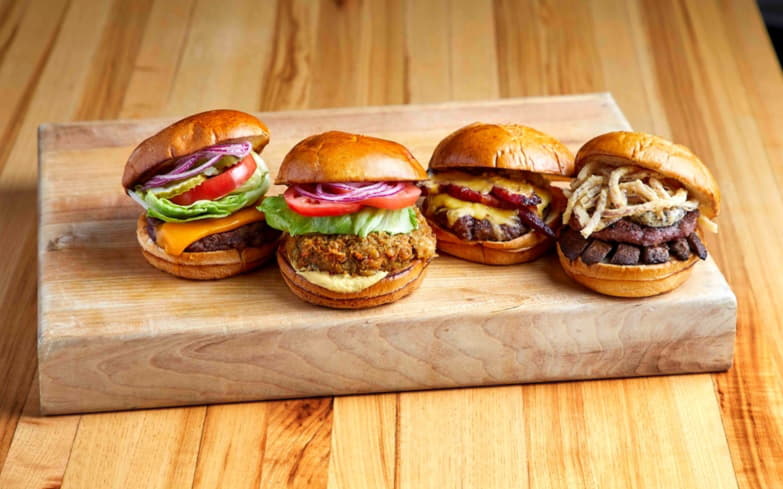 Photo credit: Neil Burger (Craftsman Burgers)
When it comes to takeout, a well-established steakhouse may not be the go-to getaway for chef-made vegetable burgers, saucy chicken wings, and healthful bowls chockfull of poke and sweet potato. Then again, III Forks Prime Steakhouse isn't your garden-variety steakhouse. With the public clamoring for more delicious, dine-at-home options with easy prep, the award-winning beef emporium has, well, delivered.
Recently, the Palm Beach Gardens steakhouse opened three virtual kitchens— Craftsman Bowls, Craftsman Burgers, andHashtag Wings—and has teamed up with South Florida's top meal delivery company, Uber Eats.
"We are very excited about these new deliverables," says Tommy Nevill, proprietor and executive chef of III Forks in Palm Beach Gardens. "Our clients love our steaks and saltwater selections but sometimes they want more casual standardsthat can be delivered quickly to their door. And, like at our steakhouse, each kitchen uses the finest regional ingredients and exemplifies doing one thing very well."
Craftsman Bowls serves up six healthful, chef-crafted bowls bursting with seasonal flavors and locavore ingredients. Choices include: Steakhouse Bowl ($14), Salmon Creole Bowl ($14), Grilled Chicken Bowl ($12), Picked Chicken Salad Bowl ($12), Vegetarian Poke Bowl ($9), and Tuscan Kale Salad ($11; add chicken, salmon, or steak for an extra charge).
Hand-formed from quarter-pound, Certified Angus beef, Craftsman Burgers come in three carnivorousiterations: The Craftsman ($12); Smoked Gouda Bacon Melt ($12); and Truffled Mushroom Burger ($13). The Veggie Burger ($10), a lentil cake heaped with lettuce, tomato, and onions, is a delicious alternative for those with meat-restrictive diets. Served with hand cut potato chips.
Hashtag Wings is all about finger-licking-good chicken wings. Wings come in batches of 5 ($8) and 12 ($18) and four styles: buffalo, garlic herb Parmesan, sweet Thai chili, and chipotle barbecue. Hash browns ($3) and dipping sauces (blue cheese and ranch, $.60 each) are also available.
All virtual kitchen orders are available for delivery only.
For more information, please visit 3forks.com or call (561) 630-3660.
III Forks Prime Steakhouse is located at 4645 PGA Boulevard, Palm Beach Gardens.