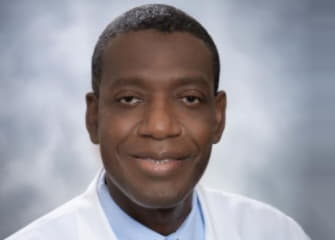 Arnoux Blanchard, M.D.,
COVID-19 is wreaking havoc in all areas of our lives, but for those who have been infected, there is the added impact the disease may have on our heart. While it is impossible at this time to know the lingering effects COVID-19 has on the heart, there are patients who have tested positive for the disease that may experience heart complications as a result.
"There are patients infected with COVID-19 who are also diagnosed with myocarditis, or inflammation of the heart, which can cause permanent damage to the heart muscle," said Arnoux Blanchard, M.D., a cardiac and internal medicine specialist with the Broward Health Physician Group. "Or they may experience arrhythmic complications. Patients at higher risk of these complications are those who have been diagnosed with hypertension, diabetes, high blood pressure or other chronic underlying conditions."
A significant amount of media coverage has surrounded athletes with COVID-19 and how it effects their hearts. Research continues to show that athletes, particularly younger ones, are at higher risk of myocarditis. An MRI for at-risk athletes can determine if the inflammation has resolved or if there is scar tissue that could lead to arrhythmias.
An unintended consequence of COVID-19 has been that some patients are delaying annual heart screening or avoiding the hospital even if they are experiencing a cardiac event. Broward Health continues to see a decrease in the number of patients seeking emergency care, and patients are presenting more ill than in the past.
"What happens is that their condition continues to worsen and when they do call 911, the situation has become dire," said Dr. Blanchard. "Time is muscle. The longer you wait to take care of your heart muscle, the more muscle you will lose."
In addition to the decrease in the number of patients coming to the Emergency Department, healthcare providers also have noted a decrease in the number of patients who are scheduling routine screenings and tests. That can lead to serious health outcomes and sometimes death. This is particularly true when it comes to matters of the heart.
The stress created by COVID-19 and the emotional, economic and social impact of the disease continues to take a toll on many patients, exasperating heart conditions that already existed or causing health issues that weren't experienced prior to the pandemic.
"Listen to your body and don't ignore your health," added Dr. Blanchard. "Today it is easier than ever to speak to your healthcare provider via telehealth or by phone. Share your concerns with your healthcare provider and let them guide you."
To schedule your virtual appointment, download Broward Health's BHealthy app. If this is a medical emergency, call 911. For more information about Broward Health's cardiac services, visit BrowardHealth.org/Cardiac.