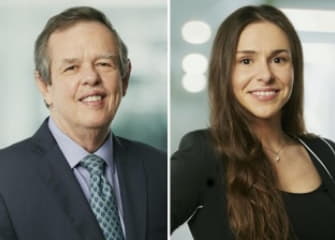 Juan Loumiet and Cayla Ross
Seasoned practitioner and new Associate Cayla Ross further strengthen firm's Miami office
Weiss Serota Helfman Cole & Bierman, P.L. announces the addition of Juan Loumiet, one of Miami's most accomplished real estate and hospitality attorneys, as Partner in the firm's Miami office. Loumiet adds his extensive, depth of experience to the ranks of Weiss Serota's Real Estate Practice Group.
Attorney Cayla Ross, who works with Loumiet, is also joining the firm as Associate.
Loumiet previously practiced for more than four decades at Greenberg Traurig, where, in addition to his real estate and corporate practice, he founded Greenberg Traurig's bankruptcy practice and served in a number of firm leadership positions. Today, Loumiet primarily represents developers of high-end hotels, resorts, entertainment, retail and mixed-use projects in the U.S., the Caribbean and Latin America, negotiating complex joint ventures, hotel and resort management agreements, loans and leases. Recent transactions include the merger of the Ritz-Carlton South Beach with the Sagamore Hotel, the assemblage of the Raleigh, Richmond and South Seas hotels in Miami Beach and the development of the newest Ritz-Carlton Hotel in New York City and Icon Park in Orlando.
"I had the pleasure of learning from Juan as his Associate early in my law career," Partner and Chair of Weiss Serota's Real Estate Practice Group Joseph Hernandez said. "I am thrilled to get to work closely with him again. The addition of Juan and Cayla to our firm adds significant experience and depth to our Real Estate Practice Group and broaden the types of real estate transactions our firm can handle domestically and internationally."
Loumiet has also served as counsel to financial institutions providing advice with respect to construction, development and permanent loans for major projects, national and foreign property owners, developers and hotel companies. He has underwritten title insurance policies issued for properties acquired or financed in Caribbean and Latin American jurisdictions and has been involved as counsel in major bankruptcies representing debtors, creditors and acquirers. Loumiet has also represented corporate entities across multiple industries, from software companies to major automobile dealers.
"It is exciting to continue practicing with a group of attorneys I have known and respected for many years, a number of whom were previously colleagues at Greenberg Traurig," Loumiet said. "I am well-positioned to effectively represent my longtime and new clients at my new professional home. I will always be grateful to Greenberg Traurig for the many opportunities and support I received during my many years there, and will remember fondly the many colleagues and staff who helped me over the years."
Loumiet has also been deeply involved over the years with many civic and community organizations and is passionate about Miami's arts and culture. He has served on the Board of Directors of the Perez Art Museum Miami, Adrienne Arsht Center for the Performing Arts of Miami-Dade County, Miami City Ballet, Miami Community Foundation (where he was the first Hispanic Chair of the Board), United Way of Miami-Dade County, the Miami Children's Chorus, and many more. He also served as a Director of the Federal Home Loan Bank of Atlanta and Chair of the bank's Affordable Housing Advisory Council.
Ross represents hotel, condominium and retail developments in development and financing transactions, joint venture deals, acquisitions and dispositions.
Loumiet graduated cum laude from Yale University with a Bachelor of Arts and earned his Juris Doctor magna cum laude from the University of Miami School of Law, where he served as an editor of the Law Review. Ross graduated from Florida State University with a Bachelor of Arts and earned both a Master of Business Administration and Juris Doctor from Nova Southeastern University.
About Weiss Serota Helfman Cole & Bierman, P.L.:
Weiss Serota Helfman Cole & Bierman, P.L. is a prominent South Florida law firm serving corporate, governmental and individual clients with an integrated array of professional services including commercial litigation, land-use and real estate law, construction law, telecommunications law, labor and employment law, government law and governmental relations. The firm has offices in Miami, Ft. Lauderdale, Boca Raton and Tampa. For more information, visit www.wsh-law.com.