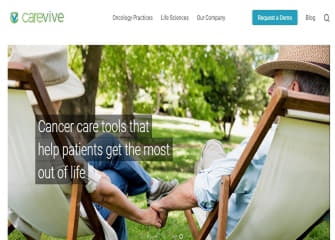 MIAMI--(BUSINESS WIRE)--Carevive Systems, the leading oncology-focused health technology company centered on understanding and improving the cancer patient experience, has today announced the completion of a Series C equity investment of $18 million.
The oversubscribed $18 million equity round was led by Philips Health Technology Ventures, and also includes Debiopharm Innovation Fund, and OurCrowd's digital health fund, Qure Ventures, as well as prior investors HLM Venture Partners, LRVHealth, Cerner, and founder Madelyn Trupkin Herzfeld.
"I'm delighted to be starting off my tenure with an announcement like this," said Bruno Lempernesse, Carevive Chief Executive Officer, who was appointed in December 2020. "This financing will advance Carevive's patient-centered mission to improve the way cancer care is delivered. I'm proud to be leading such an innovative company with committed industry-leading investors supporting us."
"The funds will allow Carevive to bring its software and analytics platform, which uniquely connects clinical data with patients' real-world reported experiences, to even more clinicians, patients, life science companies, and payers," added Lempernesse.
"We have been following Carevive's development for some time," said Allen Kamer, Managing Partner at Qure Ventures. "Carevive made significant progress in the last year, is now in dozens of hospitals around the US and was selected by Pfizer as the first Patient-Reported Outcomes (PRO) challenge winner for Carevive PROmpt®. We are excited by the company's growth and the addition of Bruno, a veteran of the health and data analytics industry, to Carevive's senior leadership team."
Carevive's platform allows clinicians to tailor cancer care management programs for each patient's needs, informed by real-world patient experiences and outcomes, not just clinical data. Its remote symptom management system means patients need to take fewer trips to health centers. And Carevive's data and analytics are helping researchers design innovative cancer care delivery models, payers to reimburse treatments effectively and life science companies to develop personalized therapies for cancer.
"Carevive is an up-and-coming company in an up-and-coming space," said Robert Fleming, Managing Director of Bowen Advisors, the Boston-headquartered investment banking advisory firm which represented Carevive in the raise. "The round was oversubscribed during the pandemic, which just goes to show the excitement in the market for Carevive, its technologies and its leadership team."
Looking forward, Carevive will be making important investments in technology, data analytics, and infrastructure. In addition, a key focus will be increasing Carevive's remote patient management functionality (Carevive PROmpt®), growing Carevive's Oncology Pragmatic Trial Investigator Network (Carevive OPT-IN®), to conduct real-world studies evaluating patient experiences, and building stronger evidence for treatment and symptom pathways.
About Carevive Systems
Carevive Systems, founded in 2013, is an oncology-focused health technology company focused on understanding and improving the cancer patient experience. Our platform enables providers to monitor and manage their patients remotely, which improves survival outcomes and patient quality of life. Use of Carevive in the clinic unlocks critical data on the real-world cancer patient experience to continuously improve patient care today and advance cancer drug development. For more information, please visit www.carevive.com or follow us @carevive.
About Qure Ventures
Qure, Israel's first exclusively focused digital health fund, invests in disruptive deep-tech solutions aimed to significantly improve the quality of patient care and health services, reduce costs of healthcare delivery, create transparency of information and empower consumers to make better health choices. Qure investments are predominantly in startups located in Israel, home to world's leading tech + digital health ecosystem. For more information, www.qureventures.com.
About Philips Health Technology Ventures
Philips Health Technology Ventures manages a business-agnostic digital health fund investing in, and partnering with, promising healthcare informatics and health technology services start-up companies to accelerate their growth and extend their reach. As a leading health technology company, Philips is focused on improving people's health and enabling better outcomes across the health continuum from healthy living and prevention, to diagnosis, treatment and home care. The company leverages its global R&D programs, targeted acquisitions and partnerships to develop integrated solutions helping healthcare providers deliver on the Quadruple Aim: better health outcomes, a better experience for patients and staff, and lower cost of care. For more information: https://www.ventures.philips.com.
About Debiopharm Innovation Fund
Debiopharm develops, manufactures, and invests in innovative therapies and technologies that respond to high unmet medical needs in oncology and bacterial infections. Through our digital health investments, we provide funding and strategic guidance for companies with an ambition to improve the patient journey and re-imagine how clinical trials are conducted. Our growing portfolio company achievements include 10 FDA clearances, 13 CE marks, 2 IPOs and 4 trade exits. Since 2008, we have invested over USD 120 million, typically leading the investment rounds of our 16 portfolio companies. For more information, please visit https://www.debiopharm.com/digital-health/.