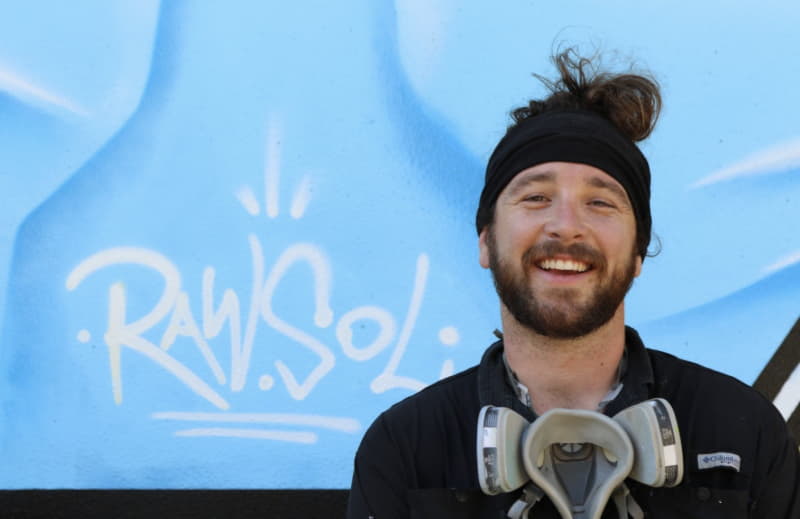 The real-world superheroes come to life in a mural recently unveiled on the outside of the Holy Cross Health parking garage where healthcare workers at the non-profit hospital can appreciate the work created just for them each time they walk by it.
Commissioned by Holy Cross Health and created by South Florida artist Cavan Koebel a.k.a. Raw.Sol, the mural is a celebration of all healthcare workers and frontline responders thanks to a generous donation by the Czubay Family Foundation. The mural at Holy Cross Health is part of a series of works known as "Not All Heroes Wear Capes," which is part of a collection of works Koebel creates for hospitals.
"I was very familiar with Cav's work and thought that this was an incredible tribute to our team at Holy Cross," said Holy Cross Health CEO and President Mark Doyle at the dedication of the mural. "Our superheroes wear scrubs, masks and PPE. We want them to be reminded every time they walk by this mural how much we appreciate their passion, quality of care and commitment to our patients, especially over the last nine months."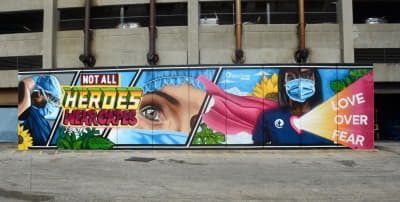 Born and raised in South Florida, Koebel is a graduate of Chaminade Madonna High School and University of Central Florida. Having attended Chaminade, he strongly believes in giving back to the community. "I am inspired by healthcare workers and the sacrifices they make going to work and risking their lives to help others especially at the height of the COVID-19 pandemic," said Koebel.
The colorful mural is a nod to superheroes and comic books yet tells the compelling story of frontline workers who risk their lives every day and will continue to celebrate them during the New Year.
ABOUT HOLY CROSS HEALTH
A member of Trinity Health, Fort Lauderdale-based Holy Cross Hospital, dba Holy Cross Health, is a full-service, non-profit, Catholic, teaching hospital operating in the spirit of the Sisters of Mercy. Holy Cross has been named one of the top 10 hospitals in the Miami metro area and among the top 30 in the state in U.S. News and World Report's 2020-2021 Best Hospital rankings. Through strategic collaborations and a commitment to being a person-centered, transforming, healing presence, the 557-bed hospital offers progressive inpatient, outpatient and community outreach services and clinical research trials to serve as our community's trusted health partner for life. Holy Cross Health also encompasses Holy Cross HealthPlex outpatient facility, urgent care centers and more than 50 Holy Cross Medical Group physician practices. To learn more about Holy Cross Health, visit holy-cross.com. Connect @holycrossfl.