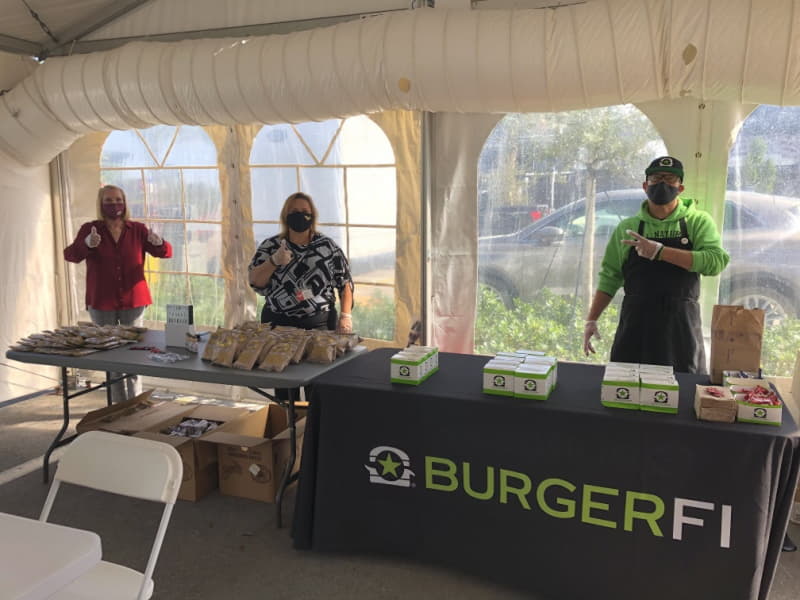 Approximately 120 Broward Health caregivers recently enjoyed a hot lunch from BurgerFi, courtesy of CDW. The delicious lunch of cheeseburgers, veggie burgers and grilled chicken sandwiches were delivered to Inter Miami CF Stadium, where more than 1,100 COVID-19 vaccines are being administered daily by Broward Health nurses, physicians and team members.
"CDW is extremely grateful for the tremendous care provided by healthcare workers during the COVID-19 pandemic," said Lynn O'Connor, a CDW Advanced Technology Executive. "We were proud to partner with Burger-Fi to provide Broward Health's dedicated caregivers a hot meal. Through this vaccination site, Broward Health caregivers are helping change the course of this pandemic and deserve recognition for their tireless efforts."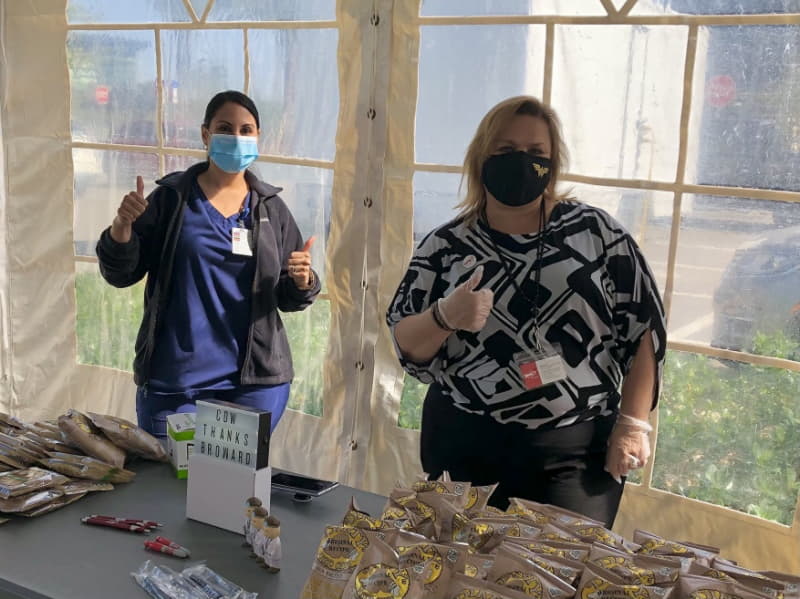 "BurgerFi is known for its community support," said Julio Ramirez, CEO, BurgerFi. "We were more than happy to fire up our grills early on the morning of January 28 and provide natural and award-winning meals to the healthcare heroes working at Broward Health's vaccination site. We hope they enjoyed the meals as much as we appreciated meeting the caregivers and thanking them for their service."
"Our caregivers were very grateful for this surprise meal," said Heather Woolf, vice president of ambulatory services at Broward Health. "We are proud of the care being provided at our COVID-19 vaccine site. Acknowledgment from community partners, such as CDW and BurgerFi, goes a long way in boosting morale and continuing our positive outlook for the future as we administer the vaccine."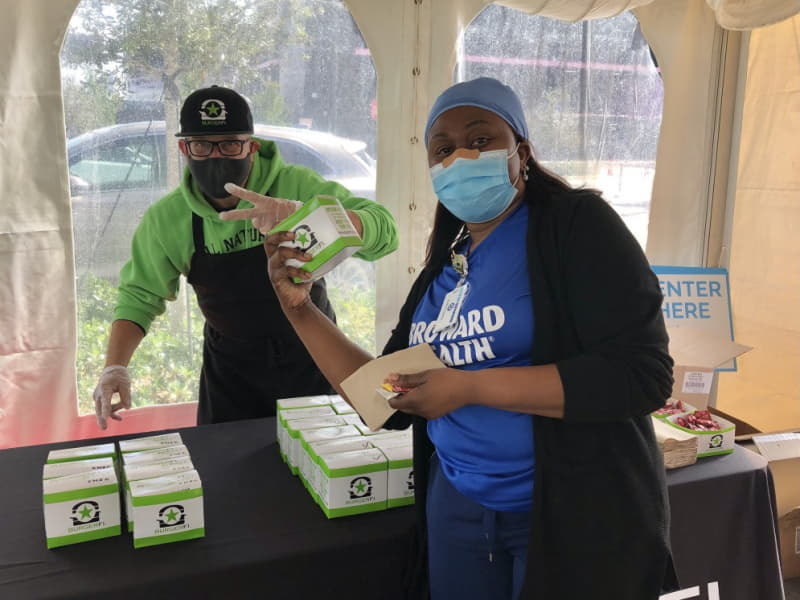 About CDW
CDW is a leading multi-brand technology solutions provider to business, government, education and healthcare customers in the United States, the United Kingdom and Canada. A Fortune 500 company and member of the S&P 500 Index, CDW was founded in 1984 and employs approximately 10,000 coworkers. For the trailing twelve months ended September 30, 2020, the company generated Net sales over $18 billion. Our broad array of offerings range from hardware and software to integrated IT solutions such as security, cloud, data center and networking. For more information about CDW, please visit http://www.CDW.com.
About BurgerFi
Established in 2011, BurgerFi is among the nation's fastest-growing better burger concepts with approximately 125 BurgerFi restaurants domestically and internationally. The concept is chef-founded and is committed to serving fresh food of transparent quality. BurgerFi uses 100% natural American angus beef with no steroids, antibiotics, growth hormones, chemicals or additives. BurgerFi was named QSR Magazine's Breakout Brand of 2020, placed in the top 10 on Fast Casual's Top 100 Movers & Shakers list in 2020, was named "Best Burger Joint" by Consumer Reports and fellow public interest organizations in the 2019 Chain Reaction Study, listed as a "Top Restaurant Brand to Watch" by Nation's Restaurant News in 2019, included in Inc. Magazine's Fastest Growing Private Companies List, and ranked on Entrepreneur's 2017 Franchise 500. To learn more about BurgerFi or to find a full list of locations, please visit www.burgerfi.com. Download the BurgerFi App on iOS or Android devices for rewards and 'Like' BurgerFi on Facebook or follow @BurgerFi on Instagram and Twitter. BurgerFi® is a Registered Trademark of BurgerFi IP, LLC, a wholly-owned subsidiary of BurgerFi.
About Broward Health
Broward Health, providing service for more than 80 years, is a nationally recognized system in South Florida that offers world-class healthcare to all. The Broward Health system includes the statutory teaching hospital Broward Health Medical Center, Broward Health North, Broward Health Imperial Point, Broward Health Coral Springs, Salah Foundation Children's Hospital, Broward Health Weston, Broward Health Community Health Services, Broward Health Physician Group, Broward Health Urgent Care, Broward Health International, and Broward Health Foundation. For more information, visit BrowardHealth.org.