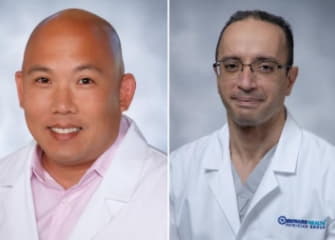 Gary Lai and Ahmed Osman
When it comes to matters of the heart, Broward Health is leading the way in cardiovascular care. During this Heart Month, Broward Health continues to serve the community with innovative therapies and free women's cardiac and stroke screenings that are offered in February. Here are some of the latest cardiac technologies, recognitions and events happening across Broward Health:
Broward Health Medical Center Introduces WATCHMAN FLX Technology
Broward Health Medical Center is the first hospital in Broward County to offer patients with non-valvular atrial fibrillation (NVAF) an alternative to long-term blood thinners with the next-generation WATCHMAN FLX Left Atrial Appendage Closure (LAAC) implant. The WATCHMAN FLX, which was approved by the U.S. Food and Drug Administration, may reduce the risk of stroke in patients with NVAF who need an alternative to oral anticoagulation therapy.
The WATCHMAN FLX is designed to enhance patient outcomes by potentially reducing complication risks and accelerating patient recovery. Built on the WATCHMAN technology, the WATCHMAN FLX device was designed to advance procedural performance and safety while expanding the treatable patient population.
A clinical study partly conducted at Broward Health Medical Center revealed that the WATCHMAN FLX performed extremely well with an almost 99% success rate, according to Ahmed Osman, M.D., medical director of the Cardiac Electrophysiology Lab at Broward Health Medical Center.
"The updated design adapts to all anatomies that could be encountered in this variable anatomical structure," said Dr. Osman.
Broward Health Coral Springs Expands Cardiac Offerings with Level I Heart Program
Broward Health Coral Springs has recently been designated a Level I Heart Program by the Agency for Healthcare Administration (AHCA), which means that the most acute heart attack patients will be able to receive critical interventional care. As a newly accredited ST-Elevation Myocardial Infarction (STEMI) program, Broward Health Coral Springs can now treat heart attack patients with an angioplasty procedure if deemed appropriate.
This follows the opening of the hospital's state-of-the art cardiac catheterization lab this past summer. The new lab, which is equipped with the latest patient monitoring technology, and the Level 1 Heart Program designation are part of Broward Health Coral Springs' initiative to provide patients with advanced and critical life-saving cardiac procedures close to home.
The addition of the STEMI heart program also makes it possible for EMS to pre-alert the emergency department and transmit the electrocardiogram. "Our team can then be ready for the arrival of the patient and rapidly stabilize, medicate and expedite care to our in-house cardiac catheterization lab," said Gary Lai, D.O., chief of emergency medicine at Broward Health Coral Springs. "This will save lives and optimize outcomes."
About Broward Health
Broward Health, providing service for more than 80 years, is a nationally recognized system in South Florida that offers world-class healthcare to all. The Broward Health system includes the statutory teaching hospital Broward Health Medical Center, Broward Health North, Broward Health Imperial Point, Broward Health Coral Springs, Salah Foundation Children's Hospital, Broward Health Weston, Broward Health Community Health Services, Broward Health Physician Group, Broward Health Urgent Care, Broward Health International, and Broward Health Foundation. For more information, visit BrowardHealth.org.