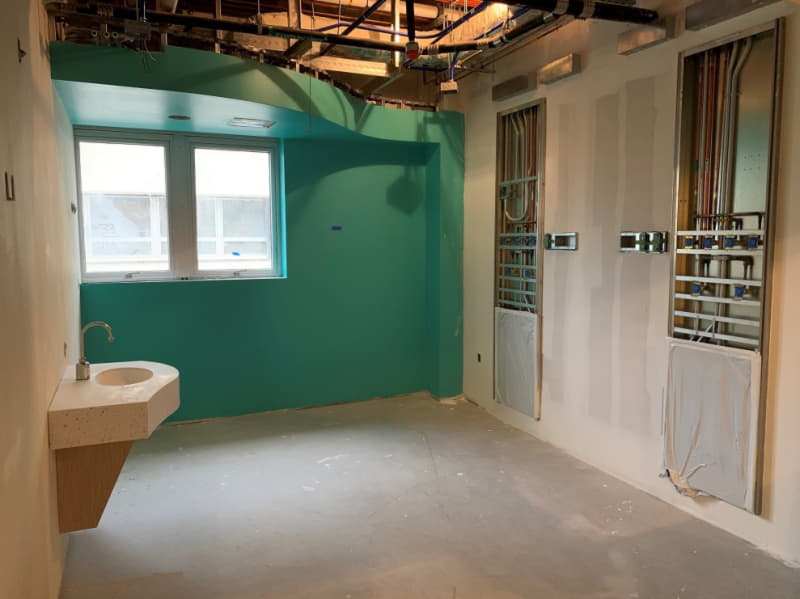 Before photo in 4th floor unit
Salah Foundation Children's Hospital has completed a $52 million expansion of its Neonatal Intensive Care Unit (NICU) that will enhance the immediate and long-term outcomes of infants born at risk. Designated as a Level III Regional Perinatal Intensive Care Center (RPICC), this is one of only 11 RPICC sites in Florida where a comprehensive team of board-certified neonatologists, nursing specialists and pediatric specialists provide comprehensive, multi-disciplinary care for critically ill newborns.
"We asked clinicians and stakeholders from every level within the NICU to help design a unit that was innovative and promoted patient- and family-centered care," said Broward Health Medical Center/Salah Foundation Children's Hospital CEO Heather Havericak. "This is a milestone in providing the best pediatric care for children across Broward County and beyond."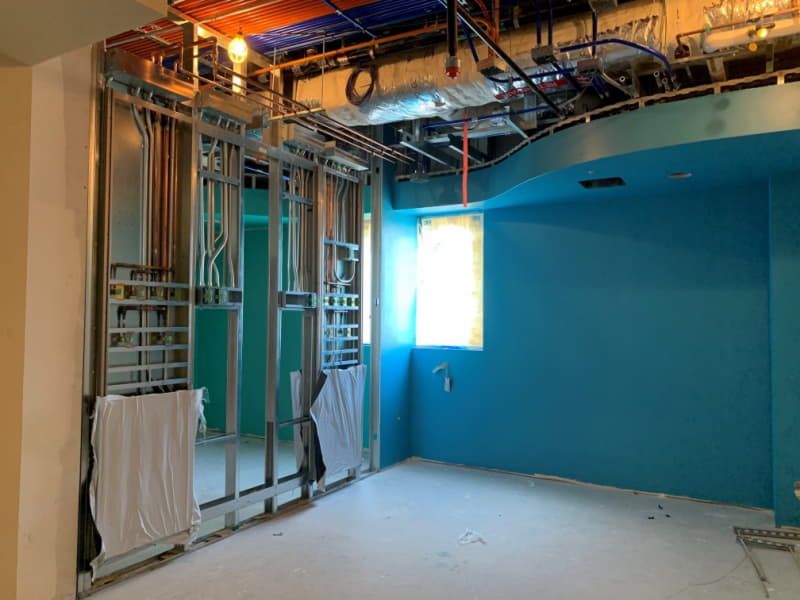 Before headwalls in the 4th floor unit
The three-year, two-phase expansion transformed the original 63-bed, one-floor open-concept ward at Salah Foundation Children's Hospital into a state-of-the-art 70 private bed-unit on two floors where families can stay overnight with their babies. The floors will be divided into Level III acute beds for more critical patients and a Level II progressive unit designed for babies ready to go home. The units will soon allow parents to see their babies when they aren't able to be present at their bedside with NICVIEW web camera system technology, and parents will be able to view their newborns 24/7 with a secure password-protected video streaming technology.
"We promote bonding and healing," Havericak said. "It's the only unit of this kind in the entire tri-county area. This is a wonderful benefit for the community. People have complex, high-quality NICU care right in their backyard."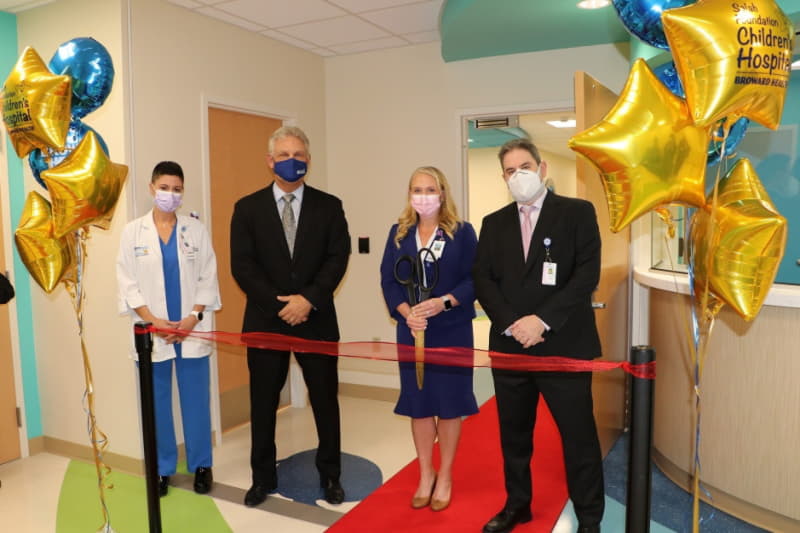 (L-R): Traci Grimaudo, RN, Nurse Manager of NICU, Robert Birdsong, Chair of Broward Health Foundation, Heather Havericak, CEO of Salah Foundation Children's Hospital, Johny Trzymel, MD, Medical Director of NICU
Funded in part by the Broward Health Foundation, which raised $23 million dollars for the renovation, the focus of the NICU is on the needs of both infants and their families and offers integrated services such as child life, music therapy and pastoral and social services.
"We have designated evidence-based protocols to regulate every intervention to help ensure the best care for the baby during his or her stay," said Johny Tryzmel, M.D., the NICU's medical director. "By applying these protocols, we make a huge difference in babies' outcomes. We have advanced technology, including a higher level of care for neonatal diagnosis, surgery and rehabilitation.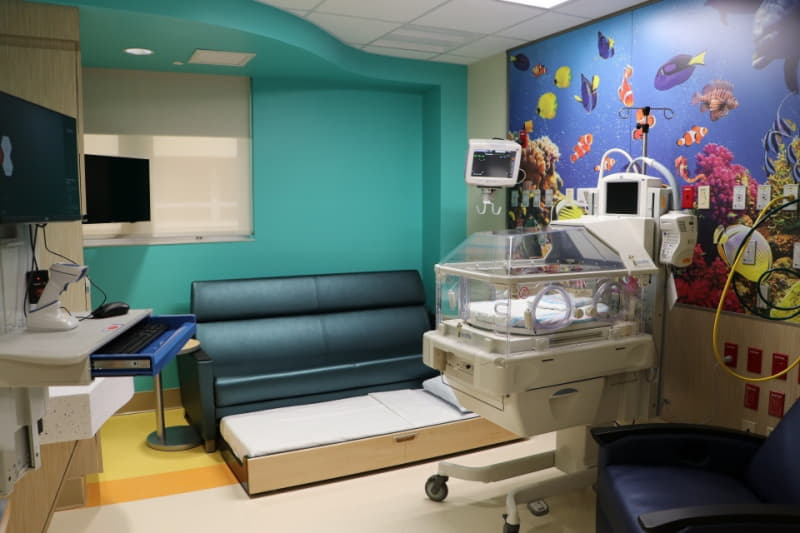 After photo in the 4th floor unit
"When a baby is born premature or born with complications, it is comforting for those families to know that we are here to support them with highly skilled specialists on staff, the most advanced medical technology and a space that is unique for their special circumstances."
Salah Foundation Children's Hospital at Broward Health Medical Center was established in 1996 and is recognized by the Children's Hospital Association, providing family-centered care for newborns, neonates, children and youth. The healthcare team features pediatricians representing numerous sub-specialties and pediatric nurses dedicated to serving the individual needs of children and their families. Everything from child-friendly playrooms to meal-time menus have been planned with the comfort and special needs of children in mind.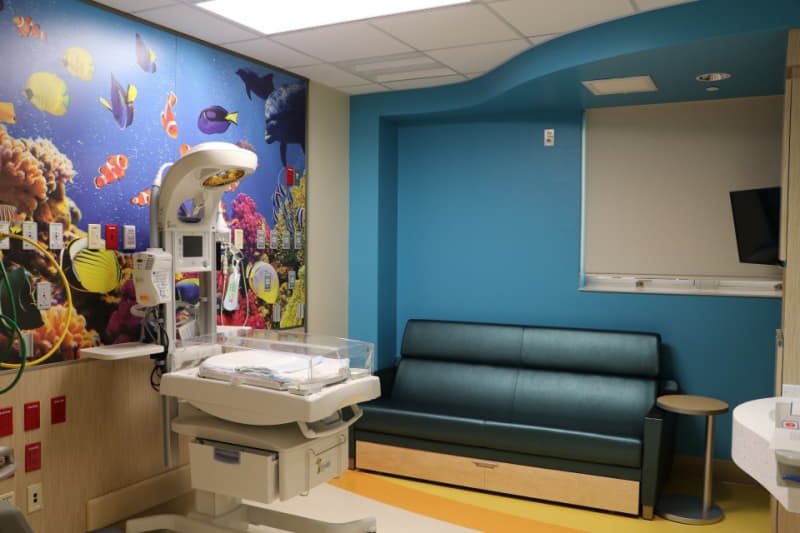 After photo in the 4th floor unit
The hospital provides a multitude of pediatric specialty services, including allergy/immunology, cardiology, dentistry, endocrinology, gastroenterology, infectious disease, nephrology, neurology, ophthalmology, orthopedics, psychiatry, pulmonology, rheumatology, surgery and special needs. The otolaryngology, urology, neurosurgery, and plastic surgery specialists also treat the youngest of patients.
To learn more about the NICU and register for maternity tours that include the newly expanded NICU, visit browardhealth.org/services/maternity-services.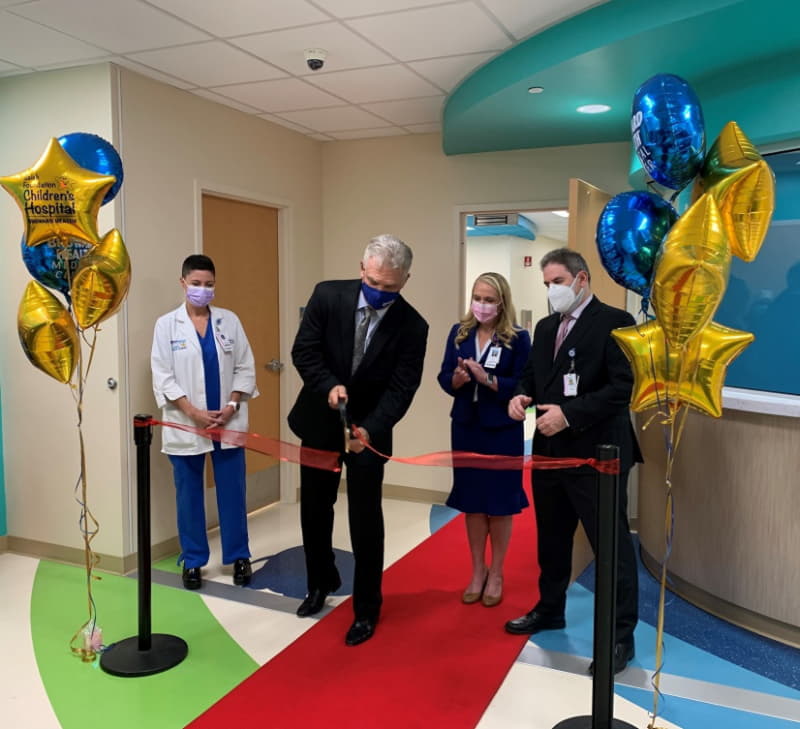 (L-R): Traci Grimaudo, RN, Nurse Manager of NICU, Robert Birdsong, Chair of Broward Health Foundation, Heather Havericak, CEO of Salah Foundation Children's Hospital, Johny Trzymel, MD, Medical Director of NICU
About Broward Health
Broward Health, providing service for more than 80 years, is a nationally recognized system in South Florida that offers world-class healthcare to all. The Broward Health system includes the statutory teaching hospital Broward Health Medical Center, Broward Health North, Broward Health Imperial Point, Broward Health Coral Springs, Salah Foundation Children's Hospital, Broward Health Weston, Broward Health Community Health Services, Broward Health Physician Group, Broward Health Urgent Care, Broward Health International, and Broward Health Foundation. For more information, visit BrowardHealth.org.