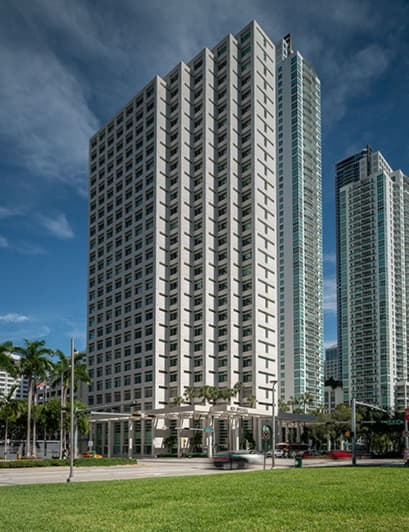 WiredScore, the organisation behind Wired Certification (the internationally recognised, digital connectivity rating system for real estate) recently announced that 801 Brickell has recently achieved Wired Certified Gold status.
The iconic 415,000 square foot Class A office tower is located at the center of the Brickell financial district, with immediate access to world-class hotels, residences, dining, and shopping, as well as proximity to Miami Beach and Coral Gables. There are over 2,000 Wired Certified buildings globally, four of which are on Brickell. Stephen Rutchik, and Tom Farmer of Colliers International Florida are the leasing agents for the building.
"We are excited to announce 801 Brickell achieving Wired Certified Gold, further highlighting why this is the premier office choice for tenants in Miami," said Stephen Rutchik, Executive Managing Director, Office Services for Colliers International. "This certification solidifies 801 Brickell as the gold-standard of connectivity in Brickell offices – both electronically and geographically, as our 'main and main' location on Eighth Street and Brickell Avenue, the heart of Miami's financial district, allows tenants unmatched access to the main drivers of Brickell's metamorphosis into a vibrant urban environment."
Wired Certification champions cutting-edge technology in commercial real estate by providing the only certification for rating the infrastructure, connectivity and technological capacity of commercial buildings. WiredScore launched in 2013 in partnership with Mayor Bloomberg and the City of New York, and in October of 2017 received support from investors Bessemer Venture Partners and Fifth Wall.
To date, over 600 million square feet of commercial office space has been certified, impacting 6 million office workers across 10 countries since its launch in New York in 2013. For more information on Wired Certification, or to find WiredScore certified buildings, visit: http://wiredscore.com/
Owned by Nuveen Real Estate, 801 Brickell previously received the prestigious Office Building of the Year (TOBY) Award from BOMA for excellence in environmentally sound office building management. 801 Brickell boasts energy consumption 38% below the national median for similar buildings.
About Colliers International
Colliers International (NASDAQ, TSX: CIGI) is a leading diversified professional services and investment management company. With operations in 68 countries, our more than 15,000 enterprising professionals work collaboratively to provide expert advice to maximize the value of property for real estate occupiers, owners and investors. For more than 25 years, our experienced leadership, owning approximately 40% of our equity, has delivered compound annual investment returns of almost 20% for shareholders. In 2019, corporate revenues were more than $3.0 billion ($3.5 billion including affiliates), with $33 billion of assets under management in our investment management segment.
Learn more about how we accelerate success at corporate.colliers.com, Twitter @Colliers or LinkedIn.