CBRE Executive Vice President Robert Smith, Senior Vice President Kirk Nelson and Executive Vice President Jeffrey Kelly facilitated the sale of a ±132.41 acre development site located on Okeechobee Road between I-95 and Florida's Turnpike in St. Lucie County, Florida.
The Silverman Group, based in New Jersey, purchased the site from FLF Holdings and plans to develop the site for large bulk warehouse distribution tenants. The Silverman Group is a privately owned and operated private equity and real estate development organization based in Basking Ridge, New Jersey. The firm owns and manages over 19,000,000 square feet of office, industrial, retail, and aviation properties as well 4,000 multi-family units throughout the United States. It has over 5,000,000 square feet of commercial space and 4,000 multi-family units currently under development in 7 states.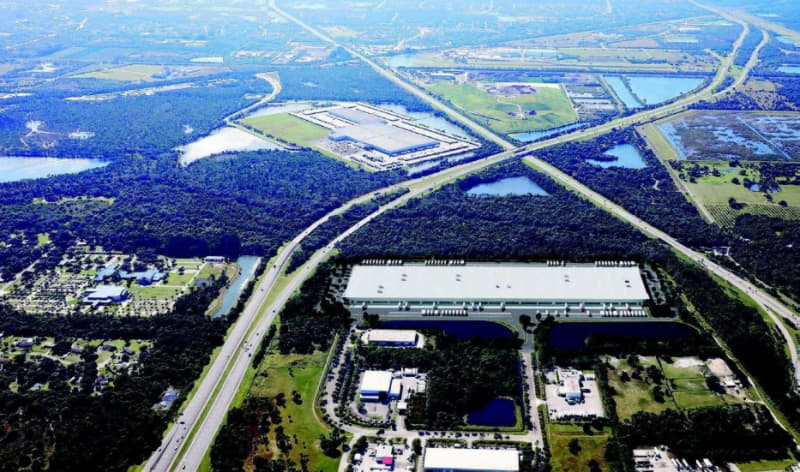 The firm plans to break ground on Interstate Crossroads Business Center within 60 days and anticipates being ready for occupancy Q4 2021. Smith, Nelson and Kelly have been tapped to market the project.
"We are very excited about opportunity to deliver quickly a first-class modern distribution building to the community of Fort Pierce in unparalleled location with immediate access to major highways. The Interstate Crossroads Business Center will feature the ability to suit the needs of a large single tenant or multiple tenants," says Toby Nelson, VP of Leasing at The Silverman Group.
The deal closed December 4th.
The site is located just south of Okeechobee Road at the convergence of Interstate 95 and Florida's Turnpike in Fort Pierce. The property encompasses ±84.65 acres of developable land and is the second phase of Crossroads Park of Commerce located immediately north of the site.
The park will feature tilt wall concrete construction, 40' minimum clear height, 56' x 54' column spacing with 60' speed bay, ESFR Fire Protection, and ample trailer and vehicle parking. While plans call for development of ±1,133,000 square feet of large bulk warehouse space, Silverman can handle build-to-suit options for large distribution users as well.
"With industrial land costs approximately 80% less than average industrial land costs in Palm Beach, Broward and Dade Counties, this location will afford us the opportunity to ask much more competitive rental rates while at the same time providing an exceptional quality of life with an abundant and affordable labor force explained Smith.
"The project also offers a very unique opportunity for tenants to have almost immediate access to both I-95 and Florida's Turnpike," added Nelson.
The property's location provides immediate access to Interstate 95 and Florida's Turnpike via Okeechobee Road. When developed, the site will offer frontage potential along Interstate 95.
With over 70 years combined experience as the North and South County brokerage market leaders with CBRE, Inc., Kelly, Smith, and Nelson have completed thousands of sale and lease transactions totaling billions of dollars in total consideration. They consistently achieve production levels high enough to be recognized nationally within CBRE.

About Jeffrey Kelly: Jeffrey Kelly is a senior ranking commercial real estate professional and perennial Top Producer who specializes in the sale and leasing of major office and industrial assets throughout Broward and Palm Beach counties. A trusted advisor to some of the largest office and industrial landlords in South Florida, Mr. Kelly helps clients navigate the ups and down of the commercial real estate market with ease, creating value through the repositioning and rebranding of major assets.

About Robert Smith: Mr. Smith is a senior ranking commercial real estate professional and Top Producer who specializes in the sale and leasing of major industrial, Life Science, office, and vacant development parcels of all types throughout South Florida. Since joining CBRE in 1996, Mr. Smith has been involved with thousands of real estate transactions totaling billions of dollars in sale and lease consideration. A trusted advisor to many of the largest commercial property owners and developers, Mr. Smith prides himself on working relentlessly to creatively add value to commercial assets through repositioning and rebranding with the use of the highest technology marketing methods available today.

About Kirk Nelson: Kirk Nelson is a Senior Vice President specializing in the sale and leasing of office, industrial and land properties for investors, tenants and lenders located in the Palm Beach, Broward and Treasure Coast Counties of South Florida. Before relocating to South Florida, Kirk served as a Sales Manager for Hanes Branded Apparel in Winston – Salem, NC. During his tenure with Hanes, he gained extensive experience with retailers that included Wal-Mart, Target, Sears and Kmart.