Leonard Goldberg
It was just more than a year ago when Hurricane Dorian slammed into The Bahamas. The Category 5 storm flattened and flooded entire communities, and is regarded as the island nation's worst natural disaster.
Just three days after Dorian's 185-mph winds subsided, South Florida aviation entrepreneur Leonard Goldberg, founder of Gold Aviation Services, was in flight and en route to the island with an aircraft full of relief supplies and volunteers from Entrepreneurs' Organization South Florida (EO SOFLO).
In the weeks following the storm, Goldberg made or managed approximately 40 relief flights delivering 200,000 pounds of supplies such as food, water, clothing, medicine and more. He also ferried dozens of volunteers to The Bahamas and airlifted out storm victims who needed medical attention, housing or other assistance.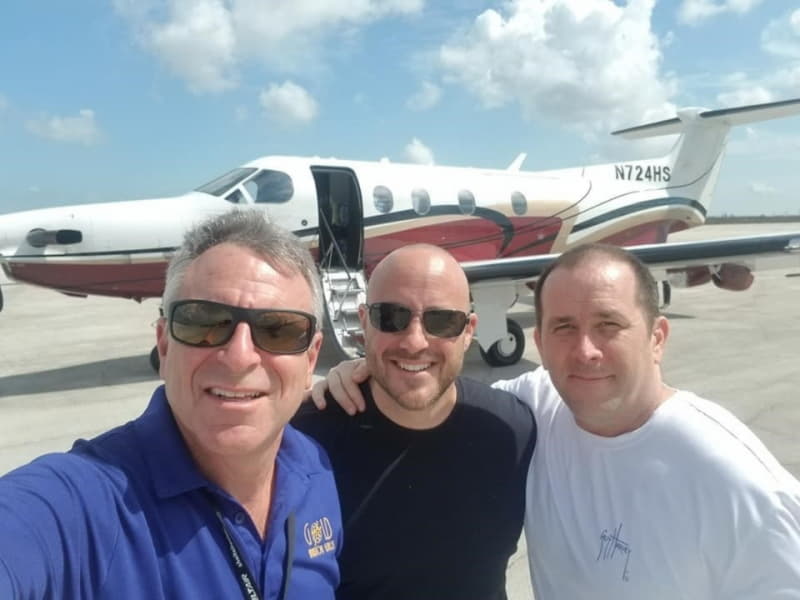 EO members Leonard Goldberg, Dave Kustin, Michael Pool
"This was a massive undertaking in which Leonard took the lead and covered the immense costs himself, without ever seeking recognition," said EO SOFLO president and Sudsies founder Jason Loeb. "He exemplifies the EO core values of giving back and leaving a mark."
EO SOFLO is one of the world's largest EO chapters, with more than 200 members who run businesses with 10,000 employees and more than $2 billion in annual revenue in Miami-Dade, Broward, and Palm Beach counties. The group's mission is to foster entrepreneurship and economic growth in the region.
The Bahamas airlift totaled more than $1 million in delivered supplies and support, in addition to hundreds of thousands worth of in-kind donations from Goldberg in aviation fuel, pilot pay, hangar space and many other costs.
The effort was especially effective because Goldberg approached it like an entrepreneur, acting quickly and decisively, without getting bogged down in process or bureaucracy.
"We jumped right in and delivered critical supplies directly to the people who needed them most. There was no waste or red tape," Goldberg said. "We knew where help was needed and were fortunate to have the right (aviation) equipment and resources."
Gold Aviation, founded by Goldberg in 1995, specializes in full service aircraft management, luxury aircraft sales and private aircraft charters on jets and propeller aircraft for business and pleasure.
Gold Aviation's first operation was flying twin-engine planes between South Florida and The Bahamas, and the company continued extensive business with clients on the island nation for the decades that followed. So, Goldberg developed broad knowledge and deep professional and personal relationships on The Bahamas before Dorian hit.
"The destruction was heartbreaking and we knew we had to help," Goldberg said.
Goldberg's leadership was the key element in the overall EO SOLFO relief effort in conjunction with Mission Resolve. With portions of the island still devastated, rebuilding continues despite additional challenges due to the COVID-19 pandemic.
Fellow EO SOFLO members were not surprised by Goldberg's zeal, focus and generosity in the aftermath of Hurricane Dorian, because they have witnessed it for almost 20 years. He joined the business organization in 1991.
"Leonard responded to this challenge with the passion, commitment and talent he displays in all his work," said Jerry Katz, past president of EO SOFLO and founder of Premier Protection Insurance. "It was the person more than the planes that made the mission possible, and successful."
"Leonard is the one who gives his all, and yet always feels as if it costs him nothing," said Michael Pool, founder of ONTV. "I have known Leonard for over a decade, as a friend, mentor, fellow board member, and more. The common element among these relationships has always been his quintessential selflessness."
"Leonard is a rock star, always shining for others," said Darren Seys, president of Peak Seven advertising agency. "There should be the Gold Award named after him for being a great humanitarian and corporate citizen."
"Leonard holds the highest standards for himself and is always there for service to others," said Cesar Quintero, founder of The Profit Recipe. "He values loyalty, dedication and doing the right thing always, no matter the cost."
"Leonard's business slogan is 'Rising Above The Standard' and he achieves that in every aspect of his life," said Eloise Gonzalez, founder of Commercial Interior Contractors. "He is an amazing family man, business owner, leader and philanthropist."
In addition to Bahamas relief and EO SOFLO community efforts, Goldberg is active in numerous other civic activities, including serving as past president and other leadership and board positions at Gilda's Club of South Florida.
"We're all beyond lucky to have Leonard as a partner in EO and as an example of how to make this world better," said Dave Kustin, co-founder of Content Bacon. "His standard, his name and his heart are all gold."
More details on EO SOFLO can be found at www.eosoflo.com.