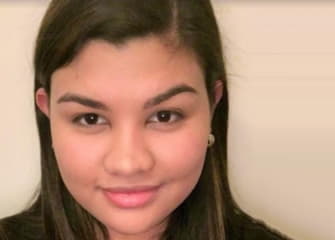 Rita Michelle Rivera
Albizu University's Miami Campus, a leader in undergraduate and graduate psychology programs, has announced that PsyD Candidate Rita Michelle Rivera was elected the new Chairperson of the Florida Psychological Association (FPA) Graduate Student Division (FPAGS).
With this new appointment, Rivera now has a voting seat on the FPA Board of Directors. Membership in FPAGS is offered to doctoral level students in good standing of APA-accredited programs whose students are eligible to sit for the Florida licensure exam.
A native of San Pedro Sula, Honduras,Rivera holds bachelor's degrees in Psychology and English from Palm Beach Atlantic University and is expected to complete her Doctor of Psychology studies at Albizu University in 2022. In addition to performing as a prodigy student at Albizu's Doctoral Psychology Program, Rivera also mentors her fellow students as a part-time tutor and works with adults, children,and families, conducting evaluations and providing therapy in English and Spanish as a practicum student for the Goodman Psychological Services Center on campus. Rivera also serves as co-chair of several comittees of the APA Covid-19 Task Force, student ambassador for multiple APA Divisions, and representative for different organizations at Albizu University, including President of the Student Council.
About Albizu University:
Proud of its roots and commitment to excellence in program offerings, Albizu University is a private, non-profit institution of higher learning with campuses in San Juan, Puerto Rico andMiami, Florida, and a University Center in Mayagüez, P.R. It was the only regionally accredited secular University in the continental United States named in honor of a Hispanic, the distinguished Puerto Rican psychologist Dr. Carlos Albizu-Miranda. To date, over 9,000 graduates call Albizu University their Alma Mater—a university that prides itself on educating culturally competent individuals capable of serving the diverse populations of our global community.
Albizu University offers undergraduate and graduate programs in psychology, education, speech-language pathology, human services, and criminal justice, as well as an ESOL program, taught by a diverse, expert faculty. Albizu's enrollment in its two campuses and the University Center of Mayagüez is over 2,000 students representing 65 countries. The University thrives in a modern facility in Miami, the main campus in the heart of Old San Juan, and the University Center of Mayagüez. For more information, visit albizu.edu.