Second Black Judge in Miami-Dade County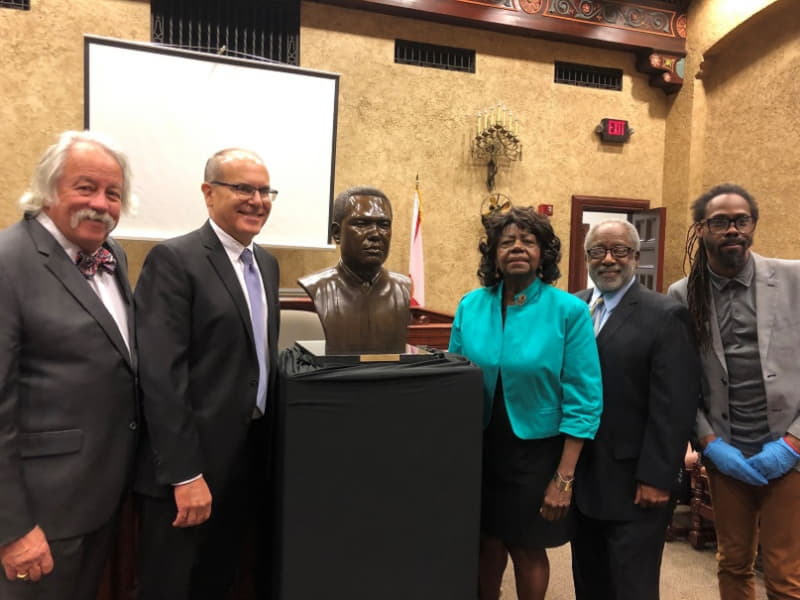 (l-r): John W. Kozyak, Founder of the Kozyak Minority Mentoring Foundation; Juan C. Enjamio, Miami office managing partner; Dr. Dorothy Fields, Founder of the Black Archives, History & Research Foundation of South Florida Inc. and Judge John D. Johnson's niece; H.T. Smith, renowned Miami lawyer and current Director of FIU's Trial Advocacy Program; and Terrance Cribbs-Lorrant, Director of the Black Police Precinct & Courthouse Museum.
A bronze bust honoring the late Judge John David Johnson (1913­2011) was unveiled on Tuesday, February 18, at the Dade County Courthouse. It was originally commissioned by Hunton Andrews Kurth LLP (Hunton) to celebrate the 20th anniversary of the Miami office and in honor of Judge Johnson, the second black judge in Miami-Dade County's history and only the fourth in the state of Florida. The artist was Florida-based sculptor and painter, Brian Owens.
The presentation of the bust was held in conjunction with the inaugural Black History Month Program for the Eleventh Judicial Circuit in collaboration with the Wilkie D. Ferguson, Jr. Bar Association. Members of Judge Johnson's family, including historian Dorothy Jenkins Fields, Ph.D., had the honor of unveiling the piece. Also attending the event were state and federal judges, area lawyers and bar leaders.
Last April, in partnership with the Kozyak Minority Mentoring Foundation, the firm held a reception to unveil plans for the bust. The reception was held at the Black Police Precinct Courthouse and Museum in Historic Overtown, one of the City of Miami's oldest neighborhoods and where Judge Johnson's bust will be housed.
The firm chose to celebrate the 20th anniversary of the opening of the Miami office by honoring the life and work of this legal giant who fought for equal justice.
"To celebrate our 20 years in Miami, we wanted to do so in a meaningful way," said Miami managing partner, Juan C. Enjamio. "We felt that recognizing a pioneer like Judge Johnson, and showcasing an important piece of Miami's history, would be a special way to demonstrate our commitment to the community and to honor those who had the courage to pave the way."
About Hunton Andrews Kurth LLP
Hunton Andrews Kurth is a global law firm of more than 1,000 lawyers handling transactional, litigation and regulatory matters for clients in myriad industries including energy, financial services, real estate, retail and consumer products and technology. Areas of practice focus include capital markets, labor and employment, mergers and acquisitions, intellectual property, P3, public finance and infrastructure, and privacy and cybersecurity. With offices across the United States and in Europe, the Middle East and Asia, we are aligned with our clients' businesses and committed to delivering exceptional service. For more information, visit HuntonAK.com.