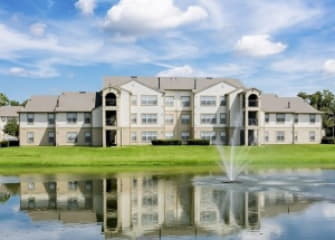 Berkadia announces it has arranged a $45.93 million loan for the refinance of Ridge@4100, a 320-unit multifamily community located in Kissimmee, Florida. Senior Managing Director Mitch Sinberg and Associate Director Matt Robbins of Berkadia's Boca Raton office secured the loan on behalf of an affiliate of Insula Companies, a real estate investment firm based in Sarasota, Florida.
Berkadia originated and Freddie Mac purchased a 10-year, floating-rate loan at an aggressive interest rate, with five years interest only.
"The sponsor was able to take advantage of favorable loan terms that allows for a long-term hold while still maintaining flexible prepayment terms in a market that's seeing continued population growth and sound fundamentals," said Robbins. "A rise in residents and demand for housing will only increase the value and potential for such an asset, turning it into an essential component of the sponsor's portfolio."
Built in 1999, Ridge@4100 offers one-, two-, three- and four-bedroom units ranging from 697 square feet to up to 1,336 square feet, including full size washer/dryer units, walk-in closets, vaulted-ceilings in some units and additional storage. Community amenities included gated-entry, a luxurious clubhouse, fitness studio, grill and picnic areas, a swimming pool and lake views.
Ridge@4100 is located just 30 minutes from downtown Orlando, and just 15 minutes from the Florida Turnpike.
Just last month, Berkadia also arranged $6.8 million in bridge financing on behalf of the same sponsor, an affiliate of Insula Companies, for Bentley Pines, a 112-unit multifamily community in Lakeland, Florida.
About Berkadia®:
Berkadia, a joint venture of Berkshire Hathaway and Jefferies Financial Group, is a leader in the commercial real estate industry, offering a robust suite of services to our multifamily and commercial property clients. Through our integrated mortgage banking, investment sales and servicing platform, Berkadia delivers comprehensive real estate solutions for the entire life cycle of our clients' assets. To learn more about Berkadia, please visit www.berkadia.com.