Led by Giorgio Vecchi and Dario Stoka, Top-Producing Team Brings Over 30 Years of Combined Experience and International Expertise to Elliman's Florida Brokerage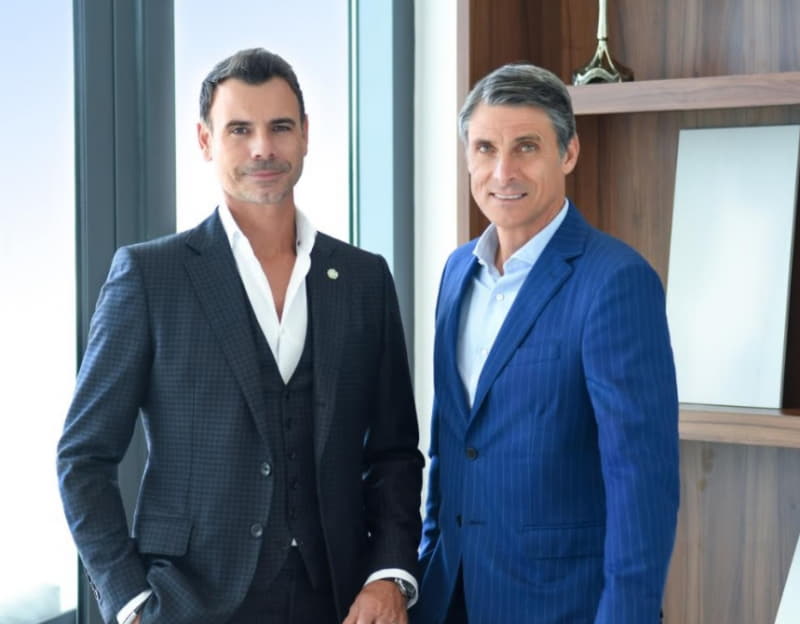 Douglas Elliman Real Estate, the second largest independent residential real estate brokerage in the United States by sales volume, is pleased to announce that the top ranked Vecchi + Stoka Group has joined the firm. Headed by Giorgio Vecchi and Dario Stoka, the group will operate out of Douglas Elliman's Miami Beach office at 1111 Lincoln Road.
"We are honored to have Giorgio and Dario join Douglas Elliman's Miami Beach office," said Jay Phillip Parker, Chief Executive Officer of Douglas Elliman's Florida Brokerage. "Their reputation for excellence and knowledgeable insight on both the international and South Florida real estate markets, aligns with the agent centric approach we offer all our associates at Douglas Elliman."
The Vecchi + Stoka Group comes to Douglas Elliman with over 30 years of combined experience and approximately $45 million in sales last year. The team held a consecutive title as the number one ranked team at Brown Harris Stevens. Well respected for their deep knowledge of both the Miami Beach and international real estate markets, Vecchi and Stoka are known for their expertise in luxury waterfront sales in South Florida and have been ranked as top producers in the South of Fifth area of Miami Beach. Taking pride in their attentive and hands on approach, Vecchi and Stoka have a track record of successfully navigating their clientele through the buying or selling experience from start to finish with honesty, clarity and efficiency.
"We were drawn to Douglas Elliman's consistent ranking as a leading brokerage in Miami-Dade County," said Giorgio Vecchi. "Our client base stretches throughout the globe and with the brand's successful track record and national reputation, we are enthusiastic about our future with Douglas Elliman."
Originally from Modena, Italy, and fluent in four languages, Vecchi began his career in international sales and marketing at an Italian manufacturing firm with a global export reach. With an additional background as a real estate investor before entering the sales world, Vecchi has picked up unique skills and insights on various real estate markets as well as the international business world throughout his storied professional history.
"The South Florida market historically has been known to attract buyer interest from around the world," said Stoka. "With the strength of the brand's international reach through their global partnership with Knight Frank we are able to effectively offer tools to reach a worldwide audience for all our clientele."
Stoka is a native of Buenos Aires, Argentina and has been living in Miami Beach for over a decade. He started out in the financial field, consulting for high-profile firms including Arthur Andersen and Ernst and Young. He then made the switch over to real estate seeing an opportunity to bring his knack for analysis and attention to detail to an industry in which he knew he could put to good use.
About Douglas Elliman Real Estate
Established in 1911, Douglas Elliman Real Estate is the largest brokerage in the New York Metropolitan area and the second largest independent residential real estate brokerage in the United States by sales volume. With more than 7,000 agents, the company operates approximately 120 offices in New York City, Long Island, The Hamptons, Westchester, Connecticut, New Jersey, Florida, California, Colorado, Massachusetts and Texas. Moreover, Douglas Elliman has a strategic global alliance with London-based Knight Frank Residential for business in the worldwide luxury markets spanning 60 countries and six continents. The company also controls a portfolio of real estate services including Douglas Elliman Development Marketing, Douglas Elliman Property Management and Douglas Elliman Commercial. For more information on Douglas Elliman as well as expert commentary on emerging trends in the real estate industry, please visit elliman.com.