Built in 2006, Deerwood Village was acquired by a Boston real estate investment firm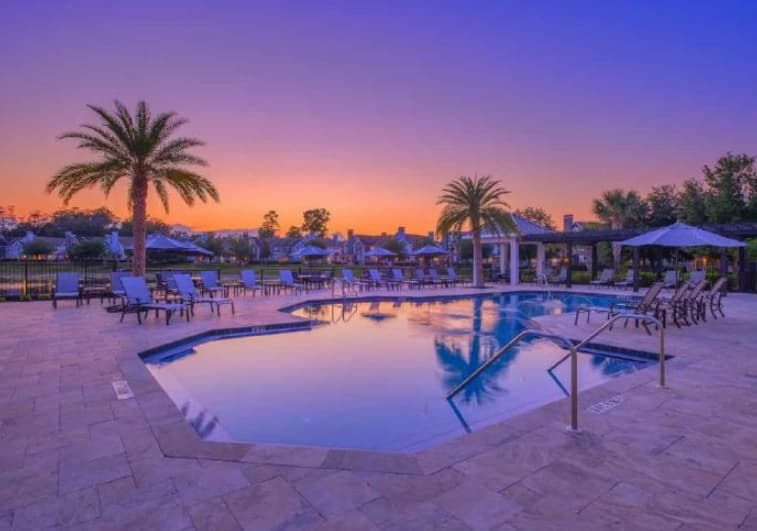 Berkadia has arranged a $38.75 million loan for the acquisition of Deerwood Village, a partially renovated, 328-unit garden-style apartment community located in Ocala, Fla. Senior Managing Director Charles Foschini, Managing Director Christopher Apone and Senior Analyst Lourdes Carranza-Alvarez of Berkadia's South Florida office arranged the loan on behalf of the buyer, West Shore LLC, a real estate investment firm based in Boston.
Freddie Mac provided the 10-year, fixed-rate loan with an extended interest only period and an 80 percent loan-to-value.
"Deerwood ranks among the nicest assets in Ocala," said Foschini. "Freddie Mac realized that as well, and working together we were able to carve out terms for the buyer that granted many credit exceptions and allowed for a loan that gave Westshore a financing edge in both leverage and rate when competing for the asset."
Built in 2006, Deerwood Village is composed of 40 two-story residential buildings, along with a clubhouse and maintenance building, on over 37 acres. The property offers a variety of spacious one-, two- and three-bedroom units in—average unit size is 1,015 square feet—including some with a unique "big house" design featuring private entries and attached garages.
The previous owner had spent over $5 million on capital improvements since 2015, including updating approximately half of all the unit interiors (with granite countertops, stainless steel appliances, and new wood-plank flooring) as well as renovating the clubhouse, expanding the fitness center, updating the poolside amenities, improving exterior paint and stucco, and upgrading the landscaping.
Deerwood Village is conveniently located just 10 miles from downtown Ocala and within five miles of over 70,000 jobs at employers like Lockheed Martin, Ocala Health System and Munroe Regional Medical Center.
About Berkadia®:
Berkadia, a joint venture of Berkshire Hathaway and Jefferies Financial Group, is a leader in the commercial real estate industry, offering a robust suite of services to our multifamily and commercial property clients. Through our integrated mortgage banking, investment sales and servicing platform, Berkadia delivers comprehensive real estate solutions for the entire life cycle of our clients' assets. To learn more about Berkadia, please visit www.berkadia.com.
© 2018 Berkadia Proprietary Holding LLC. Berkadia® is a registered trademark of Berkadia Proprietary Holding LLC.
Commercial mortgage loan banking and servicing businesses are conducted exclusively by Berkadia Commercial Mortgage LLC and Berkadia Commercial Mortgage Inc.
Investment sales / real estate brokerage business is conducted exclusively by Berkadia Real Estate Advisors LLC and Berkadia Real Estate Advisors Inc.
This advertisement is not intended to solicit commercial mortgage loan brokerage business in Nevada.
In California, Berkadia Commercial Mortgage LLC conducts business under CA Finance Lender & Broker Lic. #988-0701, Berkadia Commercial Mortgage Inc. under CA Real Estate Broker Lic. #01874116, and Berkadia Real Estate Advisors Inc. under CA Real Estate Broker Lic. # 01931050.
For state licensing details for the above entities, visit: http://www.berkadia.com/legal/licensing.aspx