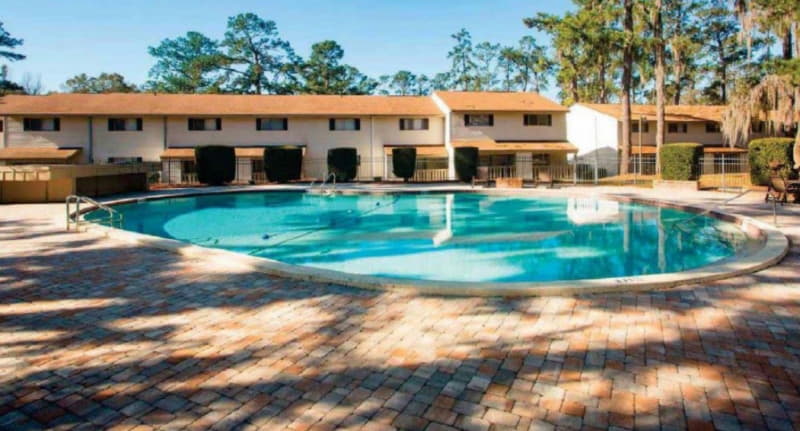 Berkadia announces it has arranged $15.5 million in acquisition financing for Aviara, a 242-unit multifamily asset in Gainesville, Florida. Berkadia South Florida's Senior Managing Director Charles Foschini and Managing Director Christopher Apone arranged the loan on behalf of Beachwold Residential, a real estate investment firm based in New York City, along with John Reed of Berkadia's Richmond, Virginia office. Berkadia's Jacksonville-based Investment Sales team led by Greg Rainey arranged the sale of the property.
Bank United originated the five-year term loan with a 75 percent loan-to-cost.
"Gainesville's consistent apartment demand continually attracts investors that seek areas with proven fundamentals, including robust employment figures and a steady stream of residents," said Foschini. "Demand drivers such as the University of Florida, Malcolm Randall VA Medical Center and UF Health – Shands Hospital create compelling investment opportunities in the area."
Built in 1972, Aviara is located at 205 SE 16 Avenue. One-, two-, and three-bedroom units offer new high-end cherry finish cabinets, granite countertops, stainless-steel appliances, walk-in closets, and private entries. Community amenities include two outdoor swimming pools with expansive pool decks, clubhouse, business center, fitness center, cyber café with Wi-Fi, tennis court, sand volleyball court, and a playground.
Aviara is situated near important transit routes and employment hubs, including Downtown Gainesville and University of Florida. Interstate 75 and Downtown Gainesville are less than 10 minutes away, and University of Florida is only five minutes away.
About Berkadia®:
Berkadia, a joint venture of Berkshire Hathaway and Jefferies Financial Group, is a leader in the commercial real estate industry, offering a robust suite of services to our multifamily and commercial property clients. Through our integrated mortgage banking, investment sales and servicing platform, Berkadia delivers comprehensive real estate solutions for the entire life cycle of our clients' assets. To learn more about Berkadia, please visit www.berkadia.com.
© 2018 Berkadia Proprietary Holding LLC. Berkadia® is a registered trademark of Berkadia Proprietary Holding LLC.
Commercial mortgage loan banking and servicing businesses are conducted exclusively by Berkadia Commercial Mortgage LLC and Berkadia Commercial Mortgage Inc.
Investment sales / real estate brokerage business is conducted exclusively by Berkadia Real Estate Advisors LLC and Berkadia Real Estate Advisors Inc.
In Florida, Berkadia Real Estate Advisors LLC conducts business under FL Real Estate Broker License #CQ1043330. Greg Rainey's license number is SL3302627.
This advertisement is not intended to solicit commercial mortgage loan brokerage business in Nevada.
In California, Berkadia Commercial Mortgage LLC conducts business under CA Finance Lender & Broker Lic. #988-0701, Berkadia Commercial Mortgage Inc. under CA Real Estate Broker Lic. #01874116, and Berkadia Real Estate Advisors Inc. under CA Real Estate Broker Lic. # 01931050.
For state licensing details for the above entities, visit: http://www.berkadia.com/legal/licensing.aspx