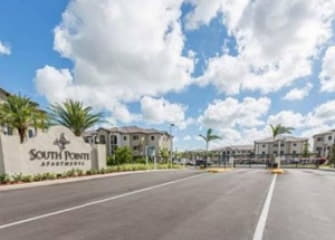 Berkadia has secured $32.515 million in permanent financing to take out a short-term construction loan used to build South Pointe Apartments, a 252-unit community built in 2017 in the Naranja section of southern Miami-Dade County. Senior Managing Director Charles Foschini, Managing Director Christopher Apone, Senior Director Jared Hill, and Senior Analyst Lourdes Carranza-Alvarez of Berkadia's South Florida office arranged the loan on behalf of 137 Holdings, LLC.
Fannie Mae originated the 12-year loan with five years of interest only at a competitive rate. The loan takes out a $26.7 million construction loan provided by Ocean Bank when the project broke ground in 2015.
"Long-term holders in the market have recognized that, for the first time in many cycles, the cost between shorter-term fixed rate debt and long-term debt is extremely narrow," explained Foschini. "We are increasingly asked to price 12-year money and longer for clients who recognize that the extended interest-only period and overall cost of capital produces a tangible benefit for the operation of the property and potentially the next buyer."
"What was unique about this transaction is that the property is still in lease-up," added Hill. "By utilizing Fannie Mae's near-stabilization program, we were able to provide the borrower with long-term, permanent financing to best eliminate interest rate risk."
Situated approximately 30 miles south of downtown Miami at 13720 SW 272 Street, South Pointe Apartments offers one-, two- and three-bedroom apartment units ranging from 740 square feet to 1,237 square feet, with rents starting at $1150 per month. Units include washer/dryer, oversized closet and air conditioning. Community amenities include a clubhouse, fitness center and trails for biking.
About Berkadia®:
Berkadia, a joint venture of Berkshire Hathaway and Leucadia National Corporation, is a leader in the commercial real estate industry, offering a robust suite of services to our multifamily and commercial property clients. Through our integrated mortgage banking, investment sales and servicing platform, Berkadia delivers comprehensive real estate solutions for the entire life cycle of our clients' assets. To learn more about Berkadia, please visit www.berkadia.com.