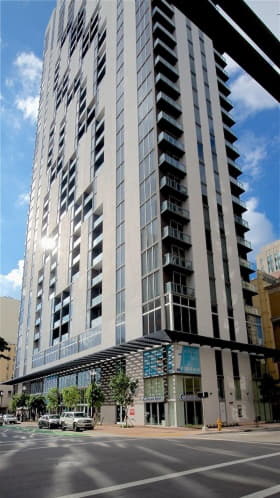 Shai Ben Ami, Miami partner of Mishorim Investments (MSHR.TA), announced the $2.7 million refinancing of a 4,350-square-foot retail space at Centro Miami, the Downtown Miami condominium tower dedicated exclusively to loft-style living developed by Newgard Development Group, in Miami, Florida.
Holiday Fenoglio Fowler, L.P. (HFF) placed the loan with Citi just 18 months after purchase of the asset.
The group purchased the retail space at the 37-story tower in August, 2016, marking the new partnership's first Miami acquisition.
The space is conveniently located at the center of three larger retail projects, including Brickell City Centre to the north, and World Center and MiamiCentral to the west. The retail space, located at 151 Southeast 1st Street, offers high-visibility street frontage in the heart of downtown Miami and boasts connected urban living – retail, restaurants, sports, dining, entertainment, and numerous transportation options all within walking distance.
Ocean Bank, the largest privately-owned bank in the state of Florida and Palm Beach County-basedJon Smith Subs, a regional chain with 11 locations open and 3 more under construction from Boca Raton to Jupiter, Florida, are now open for business.
Bella Mia, an Italian-based café/galleria concept with 44 stores worldwide, will occupy 1,000 square feet and is scheduled to open April 1. Bella Mia serves light fare along with its signature imported gelato, beer and wine. Bella Mia has also recently launched a store in Wynwood.
"We are extremely excited to see all the retail spaces leased and opened with tenants that complement our vision for Centro and Downtown in general," commented Harvey Hernandez, Founder, Chairman and CEO of Newgard Development Group.
Mishorim Investments acquired over 200 million (USD) in new real estate assets in 2017 and is continuing to grow rapidly.
"Mishorim's investment strategy focuses on locating value add commercial real estate investments worldwide and optimizing performance and positioning of the property through proper management," commented Mishorim CEO Daniel Leventhal. "We are extremely pleased with the results of our first investment in Downtown Miami, we believe in the market potential in the area and are constantly searching for new, exciting investments that fit our investment criteria."
The company, which is based in Israel, has substantial holdings in Israel as well as the United States and Canada. Mr. Gil Blutrich is the founder of Mishorim and, together with Mr. Alex Schnaider, are the controlling shareholders of the company.
About Mishorim Real Estate Investments: Israeli public company Mishorim Real Estate Investments is engaged in the acquisition and management of real estate, rental real estate, hotels, tourism and recreation in the U.S, Canada and Israel. The Group owns rental properties, hotels and other assets totaling over 2.5 million square feet and a land bank for development and improvement in the amount of 3,000 units and over -13 600 acres. The company's business strategy includes identifying opportunities in stable locales and securing real estate opportunities with a combination of strategic and financial partners. For more information, please visit http://www.mishorim.com/.
About Newgard Development Group: The partners of Newgard Development Group have spent 15 years in the South Florida real estate market. Founded by Harvey Hernandez, Newgard's highly skilled associates bring more than 40 years of combined experience in development, design and construction. Hallmarks of the Newgard approach to development include innovative luxury buildings in desirable, centrally located neighborhoods, pedestrian-oriented lifestyles and cutting-edge amenities. Property designs reflect a commitment to relevant architectural detailing and the attitudes of residents. By focusing on the unique qualities of each project, Newgard is able to ensure superior quality with exacting attention to detail, exceptional finishes and timely completion, every time. Newgard's recent projects include, BrickellHouse and Solaris, both in Brickell, Gallery Art in the Miami Arts District and City Palms in Downtown West Palm Beach. For more information, please visit http://www.newgardgroup.com.
About HFF: HFF and its affiliates operate out of 26 offices and are a leading provider of commercial real estate and capital markets services to the global commercial real estate industry. HFF, together with its affiliates, offers clients a fully integrated capital markets platform, including debt placement, investment advisory, equity placement, funds marketing, M&A and corporate advisory, loan sales and loan servicing. HFF, HFF Real Estate Limited, HFF Securities L.P. and HFF Securities Limited are owned by HFF, Inc. (NYSE: HF). For more information, please visit http://www.hfflp.com or follow HFF on Twitter @HFF.