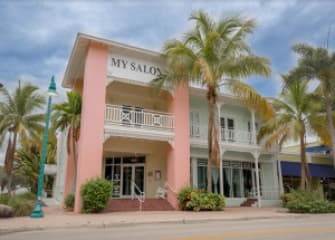 Randy Rienas and Matt Hochradel of Compass Commercial Mortgage, Inc. have successfully placed a $3.6MM loan refinancing for ACM Enterprises Incorporated; the owner of a two-story retail building located in the Pineapple Grove Arts District of Delray Beach, Florida.
Improvements consist of a two-story, retail building containing 7,734 SF. Originally constructed in 1981, the building was substantially renovated in 2004-2005 and 2015. The property is 100% master leased to My Salon Suite, a health and beauty franchise.
My Salon Suite offers beauty professionals the opportunity to own their own business without the large upfront costs and risks associated with building and running a salon. Every My Salon Suite location includes private spacious suites that are well appointed with high-end luxury amenities and top-of-the-line salon equipment for different specialties of health and beauty professionals, ranging from hair stylists to nail technicians, massage therapists, spa professionals and skin treatment experts.
The property is located within the Pineapple Grove Arts District of Delray Beach. This fast-growing submarket of Delray Beach is located along NE 2nd Avenue just north of Atlantic Avenue and south of Lake Ida Road. It is home to art galleries, studios, retail businesses, townhomes, condominiums and a Hyatt hotel.
"After thorough analysis of the owner's franchise and real estate operations, we were able to identify a local banking institution that fully understood the unique nature of the Salon Suite business and the Pineapple Grove submarket. Pineapple Grove has experienced tremendous growth and redevelopment over the past several years" stated Rienas. "We were happy to get this done for the client. They are excellent operators and entrepreneurs."
About Compass Commercial Mortgage, Inc.
Founded in 1996, Compass Commercial Mortgage, Inc. (CCMI) specializes in professional underwriting, packaging and placement of commercial real estate loans for builders, investors and owner occupants. Compass works with all segments of the commercial real estate lending market including banks, life insurance companies, capital market and private lenders. Our goal is to obtain the most cost effective, competitively priced and flexibly structured financing for our clients. We do not simply obtain a loan, but structure financing which meets the needs and objectives of our clients.
Since 2006, the team at CCMI has closed and funded over $718,000,000 in commercial loans for our clients. For more information, please visit https://www.compassmtg.com.