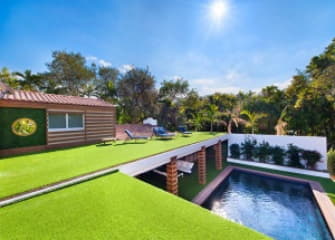 Mexican Family Buys the Property for $2.7 Million
A Mexican family just snapped up the home of famed nightclub mogul Roman Jones for $2.7 million. The 6,660-square-foot unique home located at 1200 W 63 St. in Miami Beach sat on the market for more than a year and a half until Prestige Realty Group secured the buyer. Douglas Elliman listed the residence on January 15th, 2015 for $3.895 million and it closed October 20th 2016.
"This house sat on the market for some time but the key is to find the right buyer," said Tony Rodriguez-Tellaheche, broker and co-founder of Prestige Realty Group. "We have helped several families from Mexico find beautiful homes this year and are finding that significant purchases on primary residences made by Mexican buyers have not waned."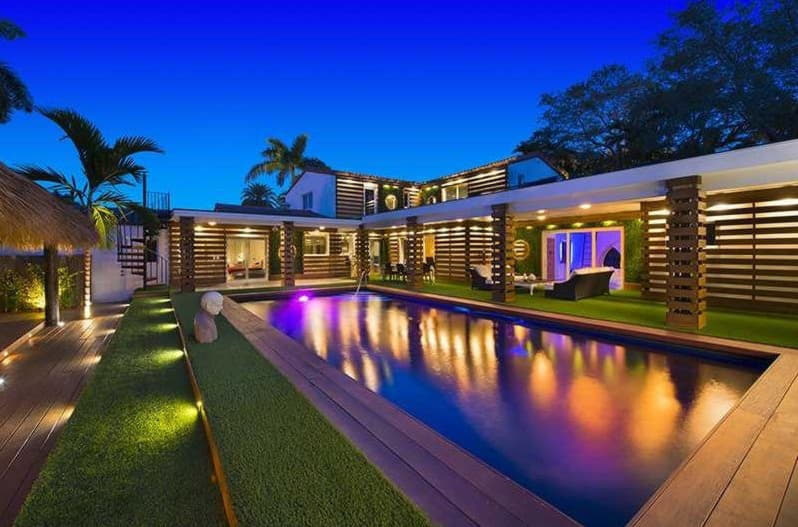 Jones was the former managing partner of the now defunct Opium Group and son of former rockstar Mick Jones who founded Foreigner. Mick Jones is also famous for writing 80s rock ballads such as "I Want to Know What Love Is" and "Waiting for a Girl Like You." The luxury home is draped in Ipe wood and synthetic turf. It has interesting features such as a giant tiki hut and elephant tusks in the living room of the home.
"The buyers were looking to relocate from a condo to a home with a larger lot for their kids. They plan to do minor renovations but keep the unique nature and natural charm of the home," said Delainy Quintero of Prestige Realty Group who represented the buyers. "They own other investment homes in Miami, but this will be their primary residence."
Miami-based Prestige Realty Group was founded in 2011 by Tony Rodriguez-Tellaheche, who is the broker of record, and his London born partner Christopher Hodgson, who divides his time between Miami and London. With associates and strong connections in London, the luxury boutique firm procures many European clients and has a keen knowledge of the interest in Miami real estate from both sides of the Atlantic. Prestige Realty Group is home to more than 25 agents and focuses on luxury residential homes in Miami Beach, Coconut Grove, Coral Gables, Brickell, South Miami and Pinecrest. Prestige Realty Group's agents are fluent in several languages including English, Spanish, Italian, French, Swedish and Portuguese. These agents, most of whom are born and raised in Miami, are mostly millennial and use the latest technology, social media, apps, drone aerial photography and videos for all their listings to help clients achieve the highest price possible for their property. When you hire Prestige Realty Group you are not just hiring one agent, you are hiring a team of 25 competent agents focusing on servicing the client efficiently and professionally.