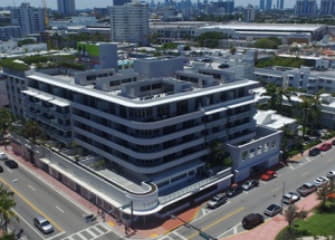 Craig Romer and Chris Romer of Dockerty Romer & Co. have arranged permanent mortgage financing in the amount of $30,250,000 for parking garage and street-front retail located in Miami Beach, FL.
The subject Property, known as 2000 Collins Avenue, consists of a 6-story parking garage and a prime retail location at the base of The Boulan Hotel. The Property is located at the epicenter of South Beach, on Collins Avenue. 2000 Collins Avenue, spanning almost an entire city block, containsapproximately 40,000 SF of "high-street" retail. The Property is approximately 3 miles east of Interstate 95 and can be easily accessed via Interstate 195.
Dockerty Romer & Co. arranged the financing through Wells Fargo on behalf of their client,a joint venture between Madison Capital and a global real estate investment manager.Wells Fargo provided a competitive 5-year, floating-rate interest only mortgage. Romer commented that, "Madison Capital is anexperienced investor with a highly professional team." Romer further commented, "Wells Fargo provided an excellent debt structure which will allow MadisonCapital to execute on their long-term business plan for this asset."
About Dockerty Romer & Co.
Dockerty Romer & Co. based in Delray Beach, Florida is a full service commercial mortgage banking firm specializing in the capitalization of income producing properties. Dockerty Romer & Co. has closed nearly $5 Billion of real estate transactions since its inception in January 2000. (www.dockertyromer.com)
About Madison Capital
Madison Capital is a leading real estate investment and operating company focused on acquiring and repositioning superior urban retail and mixed-use assets in dynamic markets including New York, Chicago, Miami and other gateway cities. Targeting income-producing and value-add opportunities in interesting, evolving neighborhoods, the firm employs a focused and disciplined approach to its investments. Since the firm's inception in 2002, Madison Capital has grown its portfolio to over $2.4 billion of current assets under management. For more information, please visit the firm's website at http://mcapny.com.