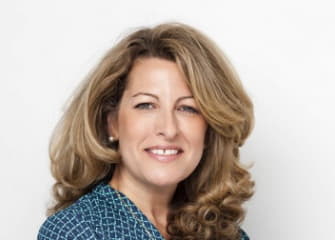 Kimberly McCarten
The Arc of Palm Beach County is proud to announce that its CEO Kimberly McCarten (resident of Palm Beach Gardens) has earned the 2016 Rising Star Award from the National Conference of Executives of The Arc (NCE). NCE is a dynamic peer membership organization of Executive Directors and Management staff, comprised of the professional leaders of The Arc's nearly 700 chapters.
The first representative of The Arc from Florida to win the award, McCarten will be honored with the award presentation at the annual NCE Distinguished Professional Achievement Awards Ceremony and Luncheon on Thursday, Oct. 27 at The Arc's National Convention in Orlando, FL.
The NCE Annual Awards Committee selected McCarten as a Rising Star based on her accomplishments and work on behalf of people with intellectual disabilities and their families. Award nominees were evaluated on their leadership, outstanding achievements, measurable outcomes, impact on the intellectual and developmental disabilities community, professional development, collaboration and creative thinking.
"Kimberly's bold and innovative leadership style, balanced with her heart and social conscience, make her an outstanding CEO, and the Board of Trustees is incredibly proud of her achievements," said Alane Foster, president of The Arc's Executive Committee for its Board of Trustees. "We are delighted that her dedication and hard work will be recognized on a national level and look forward to the new heights this 'Rising Star' will take The Arc of Palm Beach County."
Under McCarten's leadership, The Arc is working on the following organizational goals:
Through Inclusion 2020, McCarten is dedicated to creating a more inclusive learning environment for The Arc's Potentials Charter School students, beginning with The Arc becoming a V-PK site for all children, beginning in 2017-2018 school year.
"This will help our students to better integrate with their peers throughout their young educational years, while still receiving intensive therapies to best prepare them for high school and beyond," McCarten said.
The Arc's Employment Initiative will focus on innovative ways to assist young adult and adult clients in achieving their highest potential through career and job skills training classes. The classes are held at The Arc with hands-on experiential components.
The Community Voice Initiative will focus on The Arc's advocacy efforts with a plan to organize self-advocates to get their voices heard and achieve the funding, rights and independence they so deserve.
ABOUT THE ARC OF PALM BEACH COUNTY
The Arc works with children and adults with all levels of developmental disabilities, from mild autism to severe cognitive and physical restrictions. From after-school programs and physical fitness trails to personalized tutoring and adult employment training opportunities, The Arc works with families to ensure their children are progressing and developing, no matter their disability.
The Arc of Palm Beach County has been improving the lives of children and adults with developmental disabilities and their families through services, education and advocacy since 1958. The Arc supports programs throughout Palm Beach County that touch more than 2,300 families each year. For more information, please visit www.arcpbc.org.