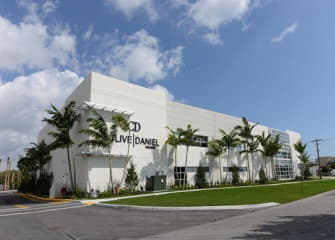 Nancy Dockerty of Dockerty Romer & Co. has arranged permanent mortgage financing in the amount of $9,500,000 for a 68,389 SF showroom/retail property in Boca Raton, FL.
The subject property, with a total of 68,389 SF is a newly constructed two story building occupied by Clive Daniel Home. The property is prominently located along Glades Rd. at the NW corner of Boca Raton Blvd. The tenant, Clive Daniel Home is a highly innovative interior design center providing design services for residential and commercial clients. This is their second showroom in Florida and opened in March 2016.
Dockerty Romer & Co. arranged the financing on behalf of their client, MB-BW Boca LLC through Deutsche Bank. Deutsche Bank provided a 10 year, fixed rate mortgage at an extremely competitive interest rate. Dockerty commented, "This was a dream team to work with, and the fourth time our firm, the lender and borrower had worked together. Having a very experienced and well regarded borrower, along with a sophisticated lender, who understands the market, made this a flawless execution at a time when the capital markets are unpredictable."
About Dockerty Romer & Co.
Dockerty Romer & Co. based in Delray Beach, Florida is a full service commercial mortgage banking and real estate brokerage company specializing in the capitalization of income producing properties. Dockerty Romer & Co. has closed nearly $5 Billion of real estate transactions since its inception in January 2000.